US soldier killed in attack on Nato base in Afghanistan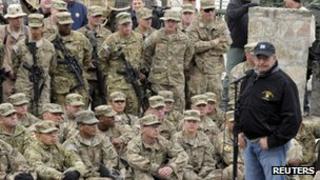 A US soldier has been killed in a suicide bomb attack at a Nato airbase outside the Afghan city of Kandahar.
Two Afghan civilians also died in the blast and more than 10 other people, including three US soldiers, were wounded.
Local police officers said a car packed with explosives was detonated beside Nato vehicles entering the base.
The Taliban have claimed responsibility for the attack in an email to the Associated Press news agency.
Last week, Taliban militants attacked the Nato base at Jalalabad airport in eastern Afghanistan, killing five people in a two-hour firefight.
US Defence Secretary Leon Panetta had visited Kandahar airbase earlier on Thursday. US officials said they did not think the attack was linked to the visit.
Mr Panetta later met the Afghan President Hamid Karzai for talks on the numbers of US troops who will stay in Afghanistan after the main body withdraws by the end of 2014
At a joint press conference, the Defence Secretary said Mr Karzai would meet President Obama in Washington next month for further talks on troop levels.