Sri Lanka Matale 'mass grave could be a crime site'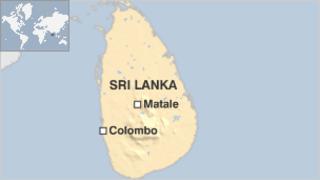 Human remains in what appears to be a mass grave unearthed last month in central Sri Lanka could be "the site of a crime", a forensic medical specialist has told the BBC.
The remains of nearly 60 people have been excavated in the town of Matale.
There are allegations that the bodies are those of Sinhalese guerrillas who fought a bloody left-wing insurgency more than 20 years ago.
But other theories hold that the people died in non-political contexts.
The skulls and partial skeletons were discovered late last month by workers building a facility at a hospital in Matale.
'Extreme violence'
Forensic medical specialist Ajith Jayasena told the BBC that 58 sets of remains have been found so far, some full and some partial. He said that more may still be discovered.
Dr Jayasena said the grave appeared to be the site of a "crime" as it was not a regular place of burial.
"We have to find out whether they are male or female, their age, whether they had any injuries, and the cause or circumstances of their deaths," he said.
"Finding multiple human remains there means we have suspicions."
Dr Jayasena said that no real conclusions could be drawn until a team of experts had finished its work. He said that some bones had been damaged during the initial discovery.
The Matale area was an epicentre of a late 1980s insurgency by leftist Sinhalese group, the JVP, in which the state matched the guerrillas' extreme violence.
The modern-day JVP suspects its former members may be buried at the site and has demanded an inquiry.
But Colombo police spokesman Prishantha Jayakody said that those buried were probably victims of a landslide in the 1940s.
"We can't pinpoint [the exact time]," he said.
"But we can say it's more than 60 years old. The doctors and neighbours say so. Old guys, 80 or 90-years-old, said there was a big landslide nearby. Five hundred people [either] died [or] were taken to hospital and badly treated. That was in 1946."
Hospital workers meanwhile have suggested that the grave could contain the bodies of smallpox victims.
If it is a grave of people who were killed during the JVP insurrection, this would unfortunately be nothing new in Sri Lanka.
There are believed to be dozens of similar sites from that era, a time in which 60,000 or more young people are said to have disappeared.
Large numbers may be buried in the same area in the north where thousands of civilians perished in shelling towards the end of the war against Tamil Tiger insurgents in 2009 - but where no open process of excavation has been permitted.