Four dead in Pakistan after Peshawar airport shoot-out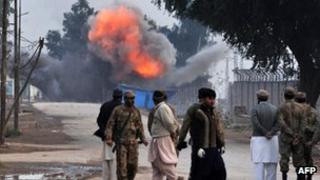 Three suspected Taliban insurgents and a policeman have been killed in a shoot-out near the north-western city of Peshawar, officials say.
The clash came a day after an attack on the city's airport, in which four civilians and five militants died.
Officials say five insurgents hid in a house outside the city following the airport attack.
Police surrounded the house and engaged the militants. Two gunmen are reported to have fled to a second building.
Peshawar has seen frequent bomb and gun attacks by militant groups in recent years, although assaults on the airport are rare.
On Saturday at least 10 insurgents launched a suicide bomb and rocket attack on the base which is used by both civilians and the military. Security there is usually extremely tight.
At least 45 people were injured in the attack.