Japan election: LDP's Shinzo Abe vows tough China line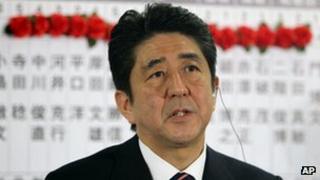 The leader of Japan's Liberal Democratic Party (LDP) has vowed to take a tough stance in territorial disputes with China.
Shinzo Abe's comments come as exit polls indicate a decisive victory for his party in Japan's general election.
He said he wanted to "stop the challenge" from China over a chain of islands claimed by both countries.
Prime Minister Yoshihiko Noda has conceded defeat and resigned as head of the Democratic Party of Japan (DPJ).
The DPJ has been in power for three years. Japanese media said it had won between 55 and 77 seats in the 480-seat parliament, while the LDP had around 300.
The LDP's ally, the small New Komeito party, looks set to win about 30 seats, possibly giving the alliance a two-thirds majority in the lower house of parliament.
That would give Mr Abe the power to over-rule the upper house and help to break a deadlock that some say has plagued the world's third biggest economy since 2007.
Mr Noda resigned from his party in the wake of results, telling a news conference: I want to deeply apologise as I could not produce results."
Asian ties
The eight disputed islands are in the East China Sea, and known as the Senkaku islands in Japan and the Diaoyu islands in China. They are uninhabited but strategically important.
Mr Abe said the islands were Japan's "inherent territory" and it was his party's objective was "to stop the challenge" from China.
"We don't intend to worsen relations between Japan and China," he said, adding that both sides "need to share the recognition that having good relations is in the national interests of both countries".
"China lacks this recognition a little bit. I want them to think anew about mutually beneficial strategic relations," he said.
Acknowledging Mr Abe's apparent victory, China's state-run Xinhua news agency warned that an "economically weak and politically angry Japan will not only hurt the country, but also hurt the region and the world at large.
It urged Japan's leaders to take a "rational stand on foreign policy" rather than "pandering to domestic hawkish views and picking fights with its neighbours".
Mr Abe also told Japan's Nippon TV he wanted to deepen ties with Asian nations, including India and Australia, and to boost Japan's struggling economy.
"We have promised to pull Japan out of deflation and correct a strong yen. The situation is severe, but we need to do this," he said
Sharp turn right
The LDP enjoyed almost 50 years of unbroken rule until 2009. Mr Abe has already served as Japanese prime minister between 2006 and 2007.
He is seen as a hawkish, right-of-centre leader whose previous term in office ended ignominiously amid falling popularity and a resignation on grounds of ill health.
The BBC's Rupert Wingfield-Hayes says that as many predicted, Japan has taken a sharp turn to the right.
The DPJ has struggled since coming to power in 2009. Two prime ministers came and went before Mr Noda as the party struggled to deliver amid the economic downturn and 11 March 2011 earthquake and tsunami.
Mr Noda lost over his move to double sales tax, something he said was necessary to tackle Japan's massive debt.
By contrast, Mr Abe has promised more public spending, looser monetary policy, and to allow nuclear energy a role to play in resource-poor Japan's future despite last year's nuclear disaster at Fukushima.
But economists say there is little new in Mr Abe's policies, or 'Abenomics' as they have been called. They have been adopted by previous LDP governments without successfully renewing the Japanese economy.