North Koreans mark Kim Jong-il death anniversary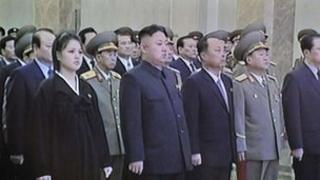 North Korea has held a ceremony to mark a year since the death of Kim Jong-il, days after conducting a controversial rocket launch.
New leader Kim Jong-un and his wife paid their respects at the Kumsusan Palace of the Sun in Pyongyang which houses the late leader's body.
Still wearing his trademark khaki suit, he lies in a glass coffin a few floors below his father, Kim Il-sung.
Kim Jong-il died on 17 December 2011; his death was announced two days later.
Leadership of the impoverished, isolated state passed to his third son Kim Jong-un.
Under his leadership North Korea has conducted two long-range rocket launches - actions condemned by the US and Pyongyang's neighbours as banned tests of missile technology.
The launch in April failed, but last week's attempt appears to have been a success, placing a satellite into orbit.
The US, Japan and South Korea are seeking a response in the UN Security Council, which banned North Korea from missile tests after nuclear tests in 2006 and 2009.
'Another victory'
North Korea held a mass rally on Friday to mark the rocket's success and another on Sunday to commemorate Kim Jong-il.
On Monday, the country's top leaders gathered at the mausoleum where the embalmed bodies of both Kim Jong-il and his father, national founder Kim Il-sung, lie.
The ceremony, broadcast live on state television, showed a series of officials bowing before statues of the two late leaders.
Scientists who worked on last week's long-range rocket launch also attended, state television said.
The Associated Press reported that wails echoed through the chilly hall as a group of North Korean women sobbed and bowed before his body.
They were part of a select group allowed into the mausoleum for the first time since his death, although photography was not permitted.
On Sunday ceremonial head of state Kim Yong-nam praised Kim Jong-il's role in the rocket launch at the giant rally in a Pyongyang sports stadium.
"The successful launch of our Kwangmyongsong-2 satellite is also another victory achieved by our military and people, by faithfully following the teachings of the great leader [Kim Jong-il]," he said.
The UN Security Council last week condemned the launch and said it would continue consultations on an appropriate response.