Philippines MPs approve contraception law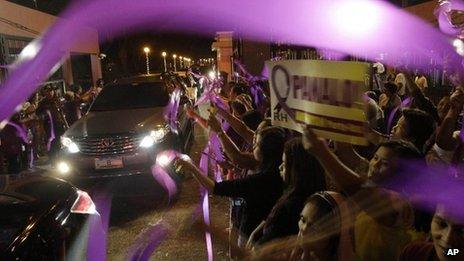 Legislators in the Philippines have defied the powerful Roman Catholic Church to vote in favour of state-funded contraception.
Both the Senate and the House of Representatives backed a bill that has been debated for 13 years.
Supporters say it is a vital human rights measure in the impoverished country with one of the highest mortality rates in the region.
But the Church says the law could corrupt moral values.
The bill has had the strong backing of President Benigno Aquino, who hopes to sign it into law by the end of the year.
However, the two chambers passed slightly different versions of the bill, and they need to agree on a common version to put before the president.
Mr Aquino's spokesman described Monday's votes as "historic".
"Many administrations have tried to come up with a bill on responsible parenthood," Edwin Lacierda told reporters.
Senator Miriam Defensor-Santiago, a key backer of the law, said that, despite the Church's opposition, "there is no force more powerful than an idea whose time has come".
But senior figures in the Catholic Church say they will continue to oppose the move.
"What the Church will do is to continue instructing our people, telling them the evils of contraceptives," said Bishop Gabriel Reyes.
"They should not accept it because contraceptives are not pro-poor. It's not pro-children or pro-family. It is harmful against women, children and family."
More than 80% of the population in the Philippines is Catholic.
A government health survey in 2011 found that the maternal mortality rate had risen by 36% between 2006 and 2010.
Many maternity hospitals are struggling to cope with the number of births - and the UN appealed to the Philippines earlier this year to pass the bill.
But the Church has had the support of many politicians, media commentators, businessmen - including revered boxer-turned-congressman Manny Pacquiao.
This was the fourth attempt to pass a bill dealing with family planning issues. The last three bills were blocked by the Church and its political allies.
Related Internet Links
The BBC is not responsible for the content of external sites.