Arrests in Australia airport customs drug probe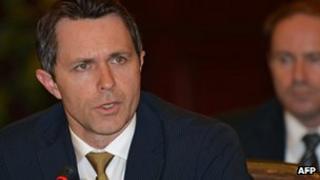 Eight people, including customs and quarantine officers, have been arrested in connection with drug smuggling at Australia's Sydney airport, police say.
The arrests, four this week and four earlier in the year, were the result of a two-year investigation.
Home Minister Jason Clare has announced an overhaul of the customs service in response to the probe.
The police announcement followed local media claims that up to 15 customs staff had engaged in misconduct.
A joint investigation by Fairfax Media and the Australian Broadcasting Corporation's 7.30 programme had alleged that the officials at Sydney airport were suspected of misconduct ranging from information leaks to drug trafficking.
'Weed out corruption'
Police said that four of the arrests took place this week in Sydney and Adelaide.
A customs officer accused of facilitating the importation of pseudoephedrine on two occasions had been charged with offences including bribery and conspiracy, a statement said.
A quarantine officer and two alleged drug couriers were also held and charged.
Three people, including another customs officer, were arrested and charged with offences related to importing drugs in August, with another man held in October. Further arrests had not been ruled out, police said.
Mr Clare said he was working on "major structural and cultural reforms to customs" that would be announced next year.
"There is no place for corruption in our law enforcement agencies. Where it exists we have to weed it out."
Mr Clare has appointed a three-member reform panel to oversee the changes. He said that the announcement of the arrests was delayed by a suppression order that had now been lifted.