Can Park move past legacy to unite divided camps?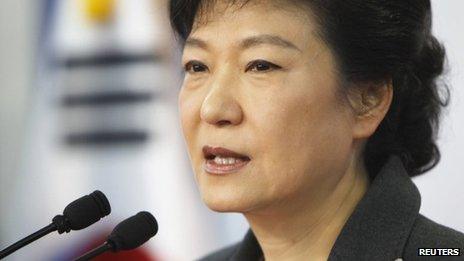 It is a particularly South Korean trait to encompass both the future and the past.
This ancient society manages to combine cutting-edge technology and modern lifestyles with Confucian values and a strict social order.
Its new president-elect is no different. Park Geun-hye's historic win as the country's first woman president has led many to hope she will challenge South Korea's patriarchal institutional attitudes about the kind of roles women should play.
But she's also carrying a lot of baggage from the past. Her father, Park Chung-hee, was perhaps the country's best-known president, credited with laying the foundations for South Korea's powerhouse economy but accused of doing so at the expense of democracy.
His story is also Park Geun-hye's story. When Ms Park was just 22, her mother was assassinated, leading her to take on the role of acting first lady during the last years of her father's time in power.
That memory has stayed with many older Koreans, no doubt helping to boost her support at the ballot box, some 40 years later.
In fact, standing at a polling station on Wednesday, in the freezing December morning, one thing that stood out was the number of elderly and very infirm who turned out to vote - many of them had to be physically helped to the ballot box.
Anecdotal, perhaps, but a sign of how strongly elderly voters wanted to make their voices heard in this election.
Opinion polls suggest that Ms Park's support in this election came from those in their 50s and 60s. Ironic, say Ms Park's critics, that it is precisely the generation who suffered under her father's repressive rule who seem most firmly in favour of electing her.
And there is little doubt that her legacy has cost her votes, as well as boosted them.
It is a quandary she has had to juggle during this campaign. Unable to shed the powerful baggage of her past, Park Geun-hye has had to try and manage it in the face of a divided electorate.
That dual notion of South Korea's history - a battle for economic growth versus a battle for democracy - is the legacy of this election too.
Both Ms Park and her liberal rival, Moon Jae-in, were, in a sense, ciphers for the long battle between this country's two political camps; its two views of history.
Her task now will be to bring those two sides together after a fiercely divisive campaign.
Others before her have tried and failed. And her personal history won't make that task any easier.