Asian press gives Park cautious welcome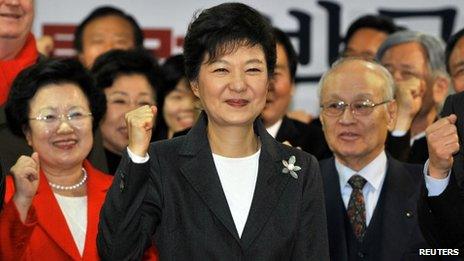 Asian papers have cautiously greeted Park Geun-hye's victory in the South Korean presidential polls.
In South Korea, commentators generally welcome her win but highlight immediate challenges ahead.
The press in China takes an optimistic view that the new leader in Seoul will improve bilateral relations and possibly bring a "special harmony" as a female leader. A Hong Kong paper notes that she speaks Mandarin.
A Japanese paper says it does not expect territorial concessions from Ms Park's government, but hopes that she will foster a cooperative relationship.
Editorial in Yonhap news agency
She has made history by becoming South Korea's first female president, but she is expected to grapple with a long list of tough issues ranging from reviving the sluggish economy to mending relations with North Korea. Before formally taking office in February, Park is likely to focus on forming a government of national unity as her historic win in the presidential election came after a neck-and-neck race with the opposition's candidate, Moon Jae-in.
Editorial in conservative daily Dong-A Ilbo
President-elect Park Geun-hye clearly must put priority on achieving national unity by embracing the sense of loss felt by the 49% of the people who did not vote for her. As the country's first presidential candidate to win with more than half of the vote, she should not become a leader for just 50% of the population.
Editorial in The Korea Herald
Park Geun-hye has no time to revel in her hard-won victory, facing a range of difficult tasks. The president-elect is set to go through tougher and more complicated external conditions and internal challenges than any previous leader.
Article in centre-right JoongAng Daily
The incoming president faces a bumpy road ahead. The economy is collapsing, income and social disparities widening, and geopolitical tensions around the Korean Peninsula escalating. The authority bestowed upon the people's choice is no personal trophy to treasure and enjoy, but a heavy responsibility to tackle mounting difficult tasks. If the president-elect does not demonstrate the boldness and capability to navigate the storm and face the headwinds, Wednesday's victory will end up more a curse than a victory.
Official Xinhua News Agency
It is expected that she will be able to bring new opportunities for the development of China-ROK relations during her tenure... Needless to say, China and the ROK [Republic of Korea - South Korea] have differences on historical issues, fishing, 'defectors from the North' and other issues. This requires the two countries to strengthen co-operation, expand understanding, proceed from the overall situation of friendly co-operation, and properly handle affairs with a pragmatic attitude.
Editorial in Huanqiu Shibao
When more and more hostility and hatred are spreading across the region, we hope that the emergence of this female president can bring a special harmony to the overall atmosphere. We are looking forward to more predictability on the Korean Peninsula, as well as dual long-term stability in China-ROK relations on a strategic level and in civil society.
Editorial in English-language Global Times
South Korea is also a stakeholder in China's rise. We hope President Park Geun-hye can help South Korea understand this. It would benefit the country, and may also be a turning point in the tense regional situation.
Article in official English-language China Daily
During the election campaign, Park proposed a 'trust-building process' on the peninsula. She obviously understands that improving ties between Seoul and Pyongyang caters to the interests of the two and the region as a whole. It is hoped she will translate her words into action soon.
Editorial in Hong Kong's Wen Wei Po
Park Geun-hye is fluent in Chinese, has deep ties with China and adopts a friendly policy towards China, which will have positive significance in promoting China-ROK relations.
Editorial in Mainichi Shimbun
It goes without saying that Japan, the US and South Korea should consolidate ties. As far as Japan is concerned, there must be efforts to improve relations with South Korea. It is hoped that South Korea will not repeat futile friction in handling affairs... In a multilayered relationship that includes security, Japan and South Korea will have no choice other than to continue calm competition while aiming for co-existence and co-prosperity.
Editorial in Sankei Shimbun
A female supreme leader has of course not appeared yet in Japan or even the US... We would like to express our congratulations and respect... Of course, as president of South Korea, she can never make concessions to Japan on territorial issues and historical issues. However, it is hoped that she will draw from the wisdom of her father's era to develop a co-operative relationship while taking into account the stance of the other side.
As the first female president with an East Asian Confucian cultural background, Park Geun-hye has received a great deal of international attention and her challenges are also extremely heavy. In addition to many issues of internal affairs, the economy and society, she must face fierce international competition, as well as the complex and elusive problem of North Korea. History has given an opportunity to Park Geun-hye and now is the time for her to prove herself.
BBC Monitoring reports and analyses news from TV, radio, web and print media around the world. For more reports from BBC Monitoring, click here. You can follow BBC Monitoring on Twitter and Facebook.
Related Internet Links
The BBC is not responsible for the content of external sites.