Nepali army ordered to ditch cars to cut pollution
By Sanjaya Dhakal
BBC Nepali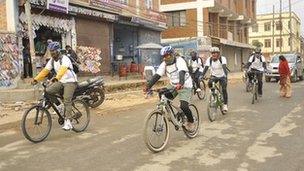 Nepal's senior army officers have been ordered to ditch their cars at least once a week when coming to office - to reduce air pollution and traffic jams.
From now on, every Friday they must walk, cycle or use public transport to go to work in the capital Kathmandu.
Army chief Gen Rana set an example by riding a mountain bike from his official residence to the office.
The capital lies in a bowl-shaped valley and suffers from high levels of dust pollution.
The army move was welcomed by environmentalists, who also urged the government and NGOs to follow the suit.
Gen Rana asked all army officers - from lieutenants to generals - based within Kathmandu valley to refrain from using private vehicles on Fridays.
He said the move would also help promote healthy lifestyle.
A known cycle-enthusiast himself, Gen Rana on Friday donned cycling gear and pedalled about 3km (two miles) from his residence to the army HQ, passing through dusty and busy roads.
The army chief - who looked quite comfortable - was joined by a number of senior army officers along the way.
Gen Rana took over the reins of nearly 100,000-strong army three months ago.
Commenting on the new initiative, army spokesman Brig Gen Suresh Sharma said: "We are observing Fridays as a clean environment day."
Nepalese environment activists say the levels of dust pollution in the Kathmandu area are up to seven times higher than the permissible limit set by the country's health authorities.
While welcoming the army drive, they also point out that the lack of dedicated cycling lanes remains a major handicap to the campaign.