Philippines signs human rights law on forced disappearances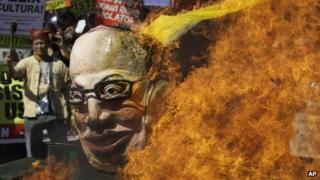 The President of the Philippines Benigno Aquino has signed a new human rights law on the abduction of individuals by state officials.
It is the first major human rights legislation passed by Mr Aquino, who came to power three years ago promising to address such crimes.
Officials face a life sentence if convicted of the offence.
The US-based Human Rights Watch said the law, passed by Congress two months ago, was the first of its kind in Asia.
The group challenged Mr Aquino to move quickly to enforce the new legislation, which it said would address the problem of impunity in the Philippines.
The BBC's Jonah Fisher says the legislation makes for the first time a distinction between simple kidnapping and the abduction of people by government security forces.
The Philippine human rights group Karapatan has documented more than 1,000 enforced disappearances since the end of the dictatorship of Fernando Marcos in 1986.
It says 12 cases have been reported during the term of President Aquino - with more than 200 under his predecessor, Gloria Arroyo.
Torture
The new law defines an enforced disappearance as the abduction or "any other form of deprivation of liberty" of a person by state officials or their agents who subsequently conceal the person's fate or whereabouts.
Human rights groups have reported that such people have been kept in a network of "safe houses" where they are tortured and sometimes killed.
The law also prohibits a practice by security forces of listing people they perceive to be "enemies of the state" to make them "legitimate targets as combatants," including those not formally charged with a crime.
Those listed are open to assassinations, abductions, harassment and intimidation.
The law cannot be suspended even during wartime and does not permit amnesty for those convicted. Superior officers of those found responsible are to be equally penalised.