China school bus crash kills 11 children in Jiangxi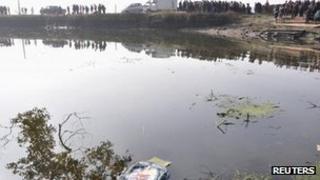 Eleven children have been killed in China when the van taking them to school crashed, Chinese state media have reported.
The children, aged between four and six years old, died when the van apparently plunged into a roadside pond in the southern province of Jiangxi.
Four children survived the accident, officials said.
There has been a string of recent deadly road accidents involving children in China.
Many vehicles in rural parts of China are badly maintained.
In November last year, the deaths of 18 young children in a bus crash caused public outrage and led authorities to promise more money for school bus services.
It is unclear what caused this latest accident, but police have detained the driver of the van.
State broadcaster China Central Television suggested the van was travelling too fast and had swerved to avoid a parked vehicle before crashing.
A Hong Kong-based human rights group said the van was made to carry seven people, but was carrying 15 children and two adults.