Kidnapped Australian Warren Rodwell in Philippine video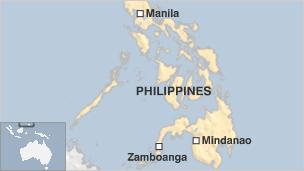 An Australian, held hostage for more than a year by Islamists in the Philippines, has been shown alive in a video posted on social media.
Warren Rodwell looked thin and haggard in the video, in which he said he was waiting to be released. He added, however: ""I personally hold no hope at all for being released.".
Philippine intelligence officials said they believed the video was genuine.
Mr Rodwell is being held by Abu Sayyaf militants, a group linked to al-Qaeda.
He was abducted last December by six gunmen from his home in the southern Philippine island of Mindanao.
A video of Mr Rodwell was released last January. In the most recent image, he is shown holding a newspaper dated 15 December. He was filmed in front of a white blanket.
The kidnappers have demanded a ransom from his wife, with whom Mr Rodwell runs a store in the seaside town of Ipil, close to Zamboanga City.
A number of foreigners have been kidnapped for ransom in the southern Philippines. Areas within the region are used as bases by Islamist militants and rebel groups.
The Australian government has a longstanding policy of refusing to pay ransom for its citizens.
Abu Sayyaf is on the US list of terrorist organisations. The group remains a security threat in the impoverished region where minority Muslims have been fighting for self-rule for decades.
The main Muslim separatist group, the Moro Islamic Liberation Front, recently signed a peace accord with the government in exchange for broad autonomy.