Are you attending the Kumbh Mela?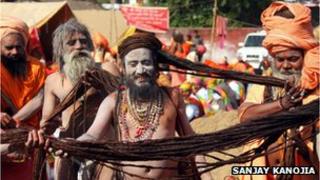 The Hindu festival of Kumbh Mela is the largest religious gathering in the world.
It will be hosted in January 2013 in the Indian city of Allahabad in Uttar Pradesh state, considered to be the largest and holiest of the four destinations that host the Kumbh Mela.
The festival has been held on the banks of the River Ganges for thousands of years and attracts millions of people.
There are several important dates during the festival when the maximum number of pilgrims can take holy dips in the river.
Are you attending the Kumbh Mela in 2013? Are you seeking spirituality? Have you been before? What's prompted you to go this time?
If so, BBC News would like to hear from you.
Please contact us using the form below or via our @BBC_HaveYourSay account using the hashtag #BBCkumbh