East Timor: UN ends peacekeeping mission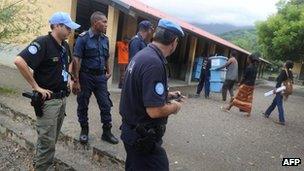 The UN officially ends its peacekeeping operations in East Timor on Monday.
UN forces have been pulling out since October when East Timorese security forces took over responsibility for maintaining law and order.
The UN played a vital role in East Timor's independence by organising the 1999 referendum which ended Indonesia's 24-year occupation.
UN peacekeeping troops returned in 2006 after a failed military coup led to social and political instability.
Finn Reske-Nielsen, chief of the UN Integrated Mission in Timor-Leste (Unmit), said in a statement: "The Timorese people and its leaders have shown courage and unswerving resolve to overcome great challenges.
"Although there remains much work ahead, this is an historic moment in recognising the progress already made."
He said the withdrawal did not mark an end to the partnership between the UN and East Timor, as "challenges still remain".
The UN directly administered the country until 2002 when it formally became a nation.
But the UN also displayed its characteristic faults in East Timor, says the BBC's Jonathan Head in Bangkok. Its missions were at times poorly-led, and staffed by well-paid expatriates of mixed ability; there was hubris in its declaration of success at independence in 2002, and the conflict which erupted between the young army and police in 2006 exposed flaws in UN planning.
An Australian-led International Stabilisation Force (ISF) was also deployed in 2006 amid violence that forced thousands of people from their homes.
The ISF ended its mission last month. As one of Asia's poorest nations, analysts say East Timor will rely on outside help for many years.
Our correspondent says that the large international presence had an inevitably distorting effect on the economy of the capital Dili. Many East Timorese will be glad to see the UN go, but may also admit they have reasons to be grateful, he adds.