South Korea approves nuclear reactor restart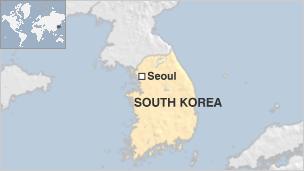 South Korea has approved the restart of a nuclear reactor previously shut down over safety concerns, officials say.
The reactor in Yeonggwang county, 300km (186 miles) from the capital, Seoul, is expected to supply power this week to help ease shortage concerns.
It was one of two reactors shut down in November after it was revealed that some of its "non-core" parts had not been properly vetted.
South Korea's 23 nuclear reactors supply 35% of its electricity.
Some of them have experienced a series of malfunctions over the past few months.
But the nuclear safety commission said all substandard parts had been replaced and that their safety records confirmed, Yonhap news agency reported.
"Today one reactor in Yeonggwang was allowed to come back into action," Shim Eun-Jung, spokeswoman for the Nuclear Safety and Security Commission, was quoted by Agence France-Presse news agency as saying.
"Another reactor is expected to pass our safety checks soon for normal operation."
While none of the country's nuclear reactors have posed a public risk, opposition to the government's bid to vastly expand its nuclear industry has been growing, correspondents say.