Indonesia city to ban women 'straddling motorbikes'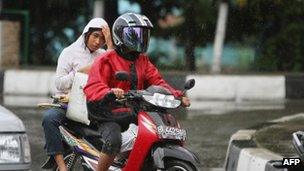 A city in the Indonesian province of Aceh which follows Sharia has ordered female passengers not to straddle motorbikes behind male drivers.
Suaidi Yahya, mayor of Lhokseumawe, says it aims to save people's "morals and behaviours".
Leaflets have been sent out to government offices and residents to inform them about the regulation.
Aceh is the only Indonesian province that follows Sharia.
Under the new regulation, the mayor says that women passengers are only allowed to sit "side-saddle" because straddling the bike seat violates Islamic values.
"When you see a woman straddle, she looks like a man. But if she sits side-saddle, she looks like a woman," Suaidi said.
He added that passengers who sat side-saddle rarely fell off.
The local government will be evaluating the regulation in a month, after which it could turn into a by-law, he added.
When asked if women who did not follow the rule would be punished, Suaidi said: "Once it has become a by-law, automatically there will be sanctions."
The regulation has been met with criticism from well-known Muslim activists like Ulil Abshar Abdalla, who is based in the capital, Jakarta.
"How to ride a motorbike is not regulated in Sharia. There is no mention of it in the Koran or Hadiths," he said on his Twitter account, referring to the second most sacred text in Islam after the Koran.
"In a democratic country, what is claimed to be Sharia must be assessed by the public's common sense if the government aims to turn the regulation into law."