Philippines shooting: Suspected accomplice held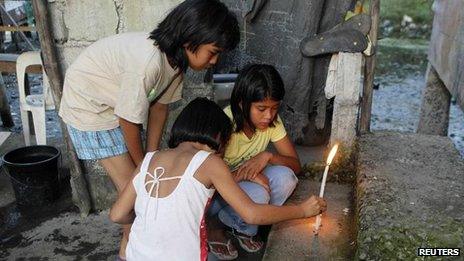 A man accused of helping a gunman kill seven people in Friday's shooting rampage near the Philippine capital, Manila, has been arrested, police say.
John Paul Lopez, the caretaker of the home of gunman Ronald Bae, who was shot dead by police during the attack, turned himself in late on Friday.
Twelve people were hurt in the attack in Kawit, 20km (12 miles) from Manila.
Witnesses said Mr Lopez had helped reload the gun. He told police Bae had threatened to kill him.
Mr Lopez was arrested in the town of Imus, close to Kawit.
National police spokesman Generoso Cerbo said officers were investigating the level of Mr Lopez's involvement but that he "definitely faces criminal charges", which could be multiple counts of murder and attempted murder.
Cavite provincial deputy police chief Dionicio Borromeo said it appeared Mr Lopez had done nothing to talk Bae out of the rampage.
The dead included a pregnant woman, her young daughter and seven-year-old girl.
Kawit police said Mr Lopez had tested positive for methamphetamine.
Police are investigating reports the pair had been on a four-day drink and drugs binge sparked by problems in Bae's marriage.
His wife said he had left her after a violent row in northern Pampanga province and went to Kawit for the new year.
"He was red in the face. It seemed like he was not himself anymore," she said. "I am sorry for what my husband has done. Please don't blame me."
Bae left Kawit after losing an election for village chief in 2010.
Friday's gun attack started close to Bae's home, where a neighbour and the neighbour's dog were shot dead.
Resident Edwin Lacorte told the Associated Press the gunman had shot and killed his seven-year-old niece, and wounded another niece and nephew. The nephew was Bae's godson.
"I could not do anything," Mr Lacorte said. "I could hear them screaming and I heard the shots."
The gunman then went to a nearby market, continuing to fire, before returning to his house.
Police surrounded the building and an exchange of fire ensued, during which the gunman was killed.