US withdrawal: Views from Afghanistan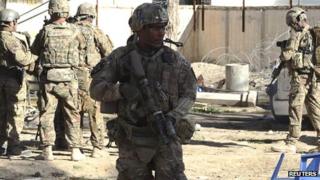 As Afghan President Hamid Karzai visits the US and the Obama administration acknowledges publicly for the first time that it may withdraw all US troops from Afghanistan in 2014, we ask people in different provinces for their views on whether this withdrawal will benefit the country.
Kandahar province
Kandahar province is the birthplace of the Taliban and is considered to be the centre of the insurgency in Afghanistan, and as such one of its most violent provinces.
Shah Mahmoud: "If they are in favour of a lasting peace in Afghanistan, they should pull out completely. Because when we had them in Afghanistan in scores of thousands, they failed to bring security. If their 9,000 soldiers, as said, stay in Afghanistan, I do not think that is a good thing. I believe their complete withdrawal will be good for Afghanistan... Afghanistan needs a lasting peace. The opposition forces have said their main condition for peace is the absence of foreign troops from Afghanistan. I think they better leave totally."
Gul Ahmad: "In case the Americans opt for a full withdrawal, the Afghans might be able to get their act together and defend their country. We have not noticed any good change in the past 10 or 11 years of their presence in Afghanistan. Rather, war and clashes have intensified. Since the Taliban have said they might sit for talks after the foreign troops pull out, their withdrawal is good."
Kunar province
Kunar province is one of the most violent regions along the Afghan-Pakistan border which has seen a lot of insurgent violence and anti-insurgency operations by US-led forces.
Malok Raghon: "There should be as many [American soldiers] as are needed to fight terrorism, to help with Afghan security and reconstruction."
Adress Gharwal: "There is still a war and there are still terrorists in Afghanistan. We have domestic and foreign threats, so if foreign troops are leaving, then they should hand over their equipment to the Afghan forces so they could guard against these threats."
Abdul Wahid: "It will be good to see Americans leave Afghanistan because in areas of Kunar where there are no American forces any more, there is no fighting and there is some peace. Those who are fighting always give the presence of foreign troops as an excuse for their war. With no foreign soldiers, they will have no excuse."
Takhar province
One of Afghanistan's northern provinces, Takhar has traditionally been more pro-Western in terms of public opinion and has only faced an increased threat from the insurgency in recent years.
Sunatellah: "Without any doubt the presence of American troops in the country will be good for Afghanistan. But Americans or any other foreign country who call themselves friends of Afghanistan should have good intentions and should be fair. Thousands of soldiers which they say will stay after 2014 should focus on training and equipping Afghan forces."
Shaima: "As we have seen in the past, American troops have violated some agreements which they have with the Afghan government. If they don't stick to agreed terms, I don't think any new agreements would benefit Afghanistan."
Badakhshan province
One of Afghanistan's northern provinces, Badakhshan, like Takhar, has traditionally been more pro-Western in terms of public opinion and has only faced an increased threat from the insurgency in recent years.
Hedayatullah: "The security agreement between Afghanistan and the US will only benefit Afghanistan if they consider every aspect of development In Afghanistan. Obama once said they will leave 6,000 soldiers in Afghanistan. I think it will be better if they leave and instead spend the money on Afghan soldiers."
Reza: "It is very important for the future of Afghanistan, especially for the security of the country. As we have seen, the Taliban are expanding their attacks. Lately, they have been using suicide tactics more than ever. Their [US forces'] presence will be very important for the security of Afghanistan."
Herat province
Close to the Iranian border, Herat has close relations with Iran and is traditionally less violent than other provinces, as one of the country's most developed and wealthy areas.
Ahmad Naim: "Some of the US soldiers should remain in the country, otherwise the armed groups will again show off their power. They have proven themselves in the past and again they will start destroying cities. Some 4,000-5,000 US troops should remain in their headquarters outside of villages and cities. They should have a supporting role for the Afghan government and whenever the Afghan government demands it, they should help. They should respect the Afghan people's traditions and beliefs, they should stop night air raids and bombardments, and they should not conduct any military operation or house search in villages without the Afghan government's permission."
Mohammad Masum Isaqzai: "All foreign troops should leave Afghanistan, and Afghans should come together and in solidarity control their own country. History has proven that the Afghans can defend their own country. The only thing that we need is solidarity. Afghans should accept the responsibility that this country belongs to them and only Afghans can control it. It is embarrassing and a shame for us that American and English women come from their countries and are protecting us. It is a big shame for Afghan men."
Baghdis province
Mostly rural and mountainous, Baghdis is one of the first provinces where Afghan forces took control of security at the end of last year. Its population is mainly Tajik and Uzbek, with some Pashtuns.
Abdul Fatah Puya: "As we all know, the withdrawal of US troops is a big problem for Afghanistan - because Afghanistan is not secure enough, and it is necessary for at least 10,000 US troops to remain. Afghanistan doesn't have enough security forces nor do we have the budget to support our security forces. There should be some conditions for US troops to remain: they should be under the lead of Afghan forces; they shouldn't conduct night raids; and all their activities should be in co-ordination with Afghan security forces. In those conditions, it is to our benefit that US troops remain in our country."