Japanese transport disrupted by heavy snowfall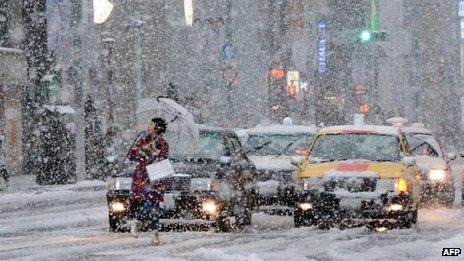 Heavy snowfall in eastern Japan has brought disruption to road, rail and air transport and caused injuries to nearly 900 people.
In the Tokyo region, 8cm (3in) of snow fell in nine hours on Monday.
An elderly man in Nagano prefecture died after falling into a drain while clearing snow in front of his house.
Around 460 domestic flights were cancelled on Monday. Some 3,400 travellers had to spend the night in Narita airport, said officials.
Staff there handed out food and blankets to the stranded passengers.
Dozens of domestic flights were also cancelled on Tuesday because of the ongoing disruption, but international services have not been severely affected.
Many roads around Tokyo were closed while the snow was cleared and the authorities have urged commuters to exercise caution while travelling in to work.
Train services, including the usually highly punctual bullet train, have have experienced delays, but services were expected to resume on Tuesday.
National broadcaster NHK said most of the 891 people injured in the Tokyo area were elderly residents who had slipped on ice. There were also reports of several road accidents.
But as Monday was a national holiday in Japan, school children were free to enjoy the snow.
"It's my first time seeing this much snow in Tokyo. I'm having a lot of fun," 10-year-old Ai Sano told Reuters.