What happened to the Marcos fortune?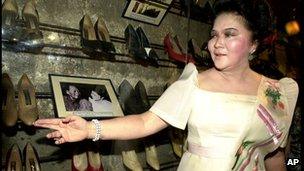 Imelda Marcos: a name synonymous with wealth, greed and excess.
During her husband's 20 years as Philippine president, she amassed a huge collection of art, jewellery, property and - most famously - at least 1,000 pairs of shoes.
Paintings by Van Gogh, Cezanne, Rembrandt, Rafael and Michelangelo; palatial homes in the US and the Philippines; silver tableware, gold necklaces, diamond tiaras - the Marcoses collected the best the world had to offer.
When they were ousted in a "People Power" revolution in 1986, Philippine investigators estimated their wealth at about $10bn (£6.2bn).
The next president, Corazon Aquino, set up a special commission to recover these funds for the government coffers - but now, more than 25 years later, just $4bn has been accounted for.
So what happened to rest of the Marcos collection?
The issue came to the fore again late last year, when Mrs Marcos' former aide, Vilma Bautista, appeared in a New York court charged with illegally selling a Monet painting.
She was also found to have another three famous artworks in her possession.
The commission admitted that all four were on a list of 146 paintings once owned by the Marcoses which they had not been able to track down.
Not surprisingly perhaps, Imelda's shoes are the part of the collection that is best accounted for.
Photographs of row upon row of designer footwear, left in the presidential palace when the Marcoses fled to Hawaii, became the symbol which summed up their lavish lifestyle.
Many of these shoes are now in a special museum in Marikina, an area north of Manila known for its shoe manufacturing.
Others are in the National Museum, along with some of Mrs Marcos' gala dresses.
There was an outcry in September when it was revealed that much of the museum's collection had been eaten by termites.
But while the shoes and clothes are of undoubted historic interest, they do not have big monetary value.
The Commission on Good Government has been concentrating on the bigger-ticket items - it has sold real estate in New York and millions of dollars-worth of shares, and obtained $600m in Swiss bank accounts.
It has also found a ruby and diamond tiara, locked in the vault of the Swiss central bank, which could fetch more than $8m.
But Andres Bautista, the head of the commission and no relation to Vilma, admits there is still a lot missing - especially the paintings.
The commission started with a list of more than 300 missing paintings - many by the grand masters - and about half of these are still unaccounted for.
"We really don't know where they are. They could be anywhere," Mr Bautista said.
I asked him if he thought that some of these artworks were still in the hands of Imelda Marcos herself (her husband Ferdinand died in 1989).
His reply was careful: "Your guess is as good as mine".
Robert Sison, Mrs Marcos' lawyer, fears that is exactly what the commission thinks.
And while Mr Sison says he is unaware exactly what art the family still has, he believes that is not the right way to look at the issue.
He refers to the Marcos wealth as being "confiscated" rather than recovered by the commission, insisting there is no legal basis to take any of the assets.
"The Philippine government has no right to question why Mrs Marcos had this art," Mr Sison said.
"Ferdinand Marcos was a gold trader before he became president, and he made his money then."
Mr Sison also pointed out that, despite numerous cases being filed against the family, no-one has been successfully prosecuted.
In defending the commission's actions, Mr Bautista refers to a Supreme Court decision from 2003, which found all but $320,000 of the Marcos assets to be the result of ill-gotten wealth.
"This is a job we took an oath to do, and we want to do it well," he said.
But Mr Bautista faces an uphill battle - and not just because the art is proving difficult to find.
The commission itself is not well respected - previous members have been accused of corruption, or "taking eggs from the chicken coop", as Mr Bautista euphemistically puts it.
He admits that the commission "needs to have the support of the public", and he is not sure whether it still does.
The Philippine judicial system is also frustratingly slow. Many of the legal cases filed against the Marcoses and their allies have been stuck for years in the backlog, never reaching court.
But there is another major factor hampering the commission - the Marcoses are once again a political force.
Imelda is a congresswoman; her daughter Imee is a provincial governor; her son BongBong is a respected senator who has a realistic chance of becoming president in 2016.
The fact the Marcoses are back in power "really doesn't help us," Mr Bautista conceded.
Given all this, it is perhaps not surprising that he wants to wind the commission down.
He is not quite ready to admit defeat - he suggests the Department of Justice still continues to investigate - but when I asked him if he thought the whole Marcos collection would ever be recovered, he paused for a while, then laughed softly.
"Filipinos are too forgetful - and we forgive too easily," he said eventually.
The emphasis now has shifted to another former president, and her alleged ill-gotten wealth.
Gloria Arroyo left office in 2010, and has already been accused of corruption as well as a string of other offences. Her trial looks set to be expensive and time-consuming.
Time marches on, memories fade and new priorities take precedence.
Maybe the full Marcos collection will never be found. Maybe the missing paintings will remain in private homes, stores and bank vaults around the world.
As for Mrs Marcos, she is now in her 80s but still as strong and flamboyant as ever - and still a keen art collector.
During one of my interviews with her, I asked for a photograph as a keepsake.
We posed next to a painting. "Wow, is that a Picasso?" I asked. "Yes," she said proudly.