Australian PM Gillard hails firefighters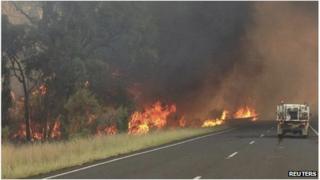 Australian Prime Minister Julia Gillard has praised fire crews in New South Wales who are tackling a blaze that has destroyed dozens of houses.
Visiting Coonabarabran, the site of the wildfire, Ms Gillard said it was "incredible" that no lives had been lost.
The blaze has burned through 42,000 hectares in and around the Warrumbungle National Park.
The fire is still burning and about 100 residents have been unable to go home.
Both the temperature and wind have dropped, aiding fire crews, but conditions are expected to change at the weekend.
Ms Gillard described the fire which hit the Coonabarabran area as "the perfect storm".
"With that awesome power in the fire, it is incredible that no lives have been lost, and that is an incredible tribute to everybody who has bravely fought these fires," she said.
"There are parts of the landscape that now look like moonscape, this fire has burnt so hot. And even people who have been fighting fires for years and years said in many parts there was nothing that could be done to stop this fire when it was at its greatest intensity."
At least 40 properties have been destroyed in the national park along with farm buildings, machinery and thousands of sheep and cattle.
John Shobbrook, who was evacuated from his property, said it had been "hard to take".
"Within a few minutes you can see there's nothing so that's the way it goes. But we're all safe," he told ABC News.
"I appreciate the efforts that all the firefighters have put in, I've seen them with tears streaming down their cheeks."
Ms Gillard announced an aid package for people whose homes or businesses had been damaged - adult residents of the region who have been affected will each be entitled to claim A$1,000 ($1,050: £660) and children A$400.
Fire bans
Rural Fire Service Commissioner Shane Fitzsimmons said there were still 84 wild fires burning across New South Wales, 14 of them not yet contained, Australian media report.
Temperatures could reach the mid 40s on Friday with strong winds, he said, and firefighters were racing to complete "incomplete and tenuous" containment lines in time.
People are also on alert in the southern state of Victoria, where a number of fires are already burning. A total ban on domestic or commercial fires is being enforced on Thursday in the Wimmera, South West, North Central and Central districts.
One fire, described as fast-moving, has been contained just outside Melbourne, while eight aircraft are attacking another fire near Aberfeldy, east of the city.
Last week, one firefighter died in Tasmania while tackling a blaze - more than 100 homes were destroyed on the island.
Australia faces wildfires each year as temperatures climb. In February 2009, on what has come to be known as Black Saturday, 173 people were killed in fires in the state of Victoria.
This year's fires have been caused by days of searing heat across much of the country - so much so that Australia's Bureau of Meteorology was last week forced to add a new shade to its colour-coded temperature chart, for heat above 50C.