Pakistan police use tear gas to disperse 'dead bodies' protest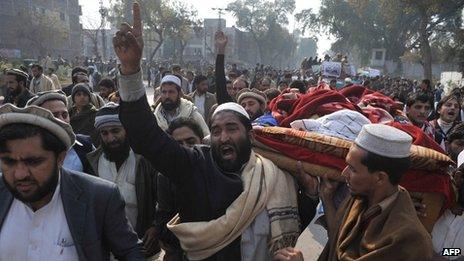 Police in the Pakistani city of Peshawar have used tear gas to disperse hundreds of protesters who were displaying the bodies of alleged victims of extra-judicial killings.
After the police action, at least 15 bodies were taken to be returned to their families, officials said.
The relatives of the dead claim they were killed by members of the paramilitary Frontier Corps.
Officials deny these claims, saying the victims were killed by militants.
Police also used water canons to disperse a sit-in opposite the governor's house in Peshawar.
Correspondents say the tactic of displaying bodies in demonstrations is rare in Pakistan, although last week dozens of Shias whose loved ones were killed in bomb blasts in Balochistan province did the same thing.
The families of the dead say that they were killed late on Tuesday by the Frontier Corps during a search operation in the Khyber region.
The bodies were found strewn around a roadside, they say.
The area is a tribal region where the army has been fighting Islamic militants.
Human rights groups and residents claim that operations carried out by the army in their search for militants frequently cause civilian casualties.
The families brought the bodies to the governor's house in Peshawar because he administers the tribal areas.
After securing the bodies, police took them to the mortuary at a local hospital from where they will be transported back to the Bara area of Khyber.
"They entered our houses and killed our relatives to avenge the killing of six security personnel in the same area of Bara on Monday night," Shabbir, a former Frontier Corps paramilitary, told the AFP news agency.
The protesters shouted anti-military slogans and called on the army to end its operations in the Bara area. One sign written in Urdu read: "We are also Pakistanis. Don't kill us."
The protesters called on the government to stop military operations in their area, withdraw a five-year-old curfew and compensate victims.
They say that the people of Bara are being persecuted by both the military and by militants.
Last month rights group Amnesty International accused the military and the Taliban of failing to address thousands of human rights abuses in the tribal areas of the north-west.
Related Internet Links
The BBC is not responsible for the content of external sites.