Deadly risks run by Pakistan's cough syrup addicts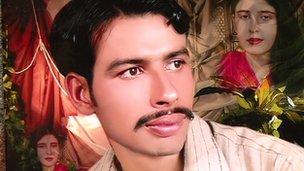 Siddiq used to sell homemade crackers on his bicycle in Gujranwala in north-east Pakistan. On 26 December last year, he had made good money and to celebrate, he bought his recreational drug on the way home - a cough syrup known in his circle by the code name "counsel".
Siddiq, 25, and his friend had a bottle each. He came home, had dinner as usual, played with his three-month-old son, Umar, and went to sleep. He never woke up. His friend died the same night.
Siddiq's father, Abdul Hameed, is still in a state of shock.
"If he had pain or any other problem, he didn't tell us, but he didn't get up in the morning. We called the ambulance and the rescuers told us he was dead," he says.
"They said many people had died in the city the same night after drinking cough syrup."
That day, 64 patients were brought to the hospital in Gujranwala; all in a critical condition after consuming the cough syrup.
All were from poor families and had been using cough syrup as a recreational drug in large quantities. Thirty-six of those patients died.
Among those treated was Waqas, a rickshaw driver.
"I have used this syrup for the past five years now - three bottles every day," he says.
"I used to feel active and good, but that night I just took one bottle, and started feeling down, I couldn't open my eyes and then fainted."
This was not the first such incident - a few weeks before, 19 people had died in the Shahdara locality of Lahore, after consuming another brand of cough syrup, called Tyno, made by a different company.
The authorities there arrested a few chemists and sealed the pharmaceutical company. A few statements promising action against whoever was responsible came from official quarters and the issue was almost forgotten. A report into the incident is still awaited.
The pharmaceutical industry was quick to respond. Soon after the Lahore incident, members started complaining about harassment from government departments. They also claimed that an internal investigation conducted by the manufacturers of Tyno had proved there was nothing wrong with the syrup.
But then, the 36 people died in Gujranwala, and the provincial government again took action. Drug stores and the second factory were sealed, a few drug sellers were arrested and the syrup was confiscated.
Now, health department officials say that a poisonous ingredient imported from India by the companies which produced both syrups is the probable source of contamination.
The director general of the health department in Punjab, Dr Nisar Cheema, says the government has conducted its own inquiry, "since it is a very sensitive matter".
Samples of both syrups were also sent to the UK for further confirmation - he says those tests have confirmed his department's own findings. The UK test findings have not been made public.
Pakistan Pharmaceutical Manufacturers' Association president Saleem Iqbal says the industry has "serious reservations about how the government is handling the issue".
"We have requested the government many times to share their inquiry report with us, but so far no progress," he says.
There are many questions around the inquiry into the Lahore deaths.
Why, weeks after the incident, has the government failed to come up with its inquiry report? If it was a time-consuming process, how was the government able to ascertain within a few days that tainted raw material could be the cause of the Gujranwala tragedy?
Many believe a more timely response by the government could have averted the deaths in Gujranwala.
In recent years, more people in Pakistan have become hooked on sedatives and non-conventional drugs like cough syrups, pain killers and anti-allergens.
Syed Zulfiqar Hussain runs the NGO Against Narcotics in Lahore, and says the true number of such addicts is in the millions, "because there is no restriction, one can go and buy anything, it's so simple. On the other hand regular drugs are expensive and difficult to get."
The medical superintendent of the District Headquarters Hospital in Gujranwala has said that doctors "do not prescribe such cough syrups; nor do patients use them on their own for cough suppression".
"Only branded cough syrups of well-reputed multinational companies are given to patients."
Whether it is the easy availability of synthetic drugs, their open sale in any quantity, or a fault with the raw material or production process, the accusation is that the relevant government departments are not doing their job.
Punjab's health director Dr Cheema is shifting responsibility onto the Drug Regulatory Authority, created only a few months ago at the federal level.
He says its primary responsibility is to check imports of raw materials and the production of medicines, but that the Punjab government will also take action to prevent any such incident in the future.
"We will not limit ourselves to just these two companies; we will take stern action against all local non-branded companies that are playing with human lives," he said.
Psychologist Dr Riaz Bhatti says the deaths in Lahore and Gujranwala "have once again proven the fact that there is no health system in the country; things are moving on their own".
"There are so many crises, law and order situation is bad, life is cheap; people are so frustrated that they are looking for escape, and synthetic drugs provide them with one. But they mix different drugs, it makes them lethal."
In Gujranwala, Abdul Hameed wants justice for his son and is worried for the future of Umar, Siddiq's baby.
"This little boy will never get his father back - who will take care of him?"