Japan turns Taiwan activists back from disputed islands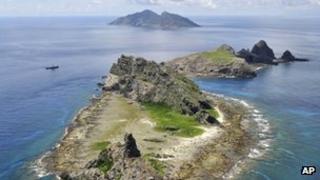 A small boat carrying Taiwanese activists trying to reach a group of East China Sea islands at the heart of a territorial dispute has been forced back by the Japanese coastguard.
The activists were sailing towards the islands, known as Senkaku in Japan, Diaoyutai in Taiwan and Diaoyu in China, to install an idol of a goddess.
China and Taiwan both claim the island chain, which is controlled by Japan.
The island row has left ties between Tokyo and Beijing severely strained.
The fishing boat is reported to have been carrying four activists as well as the Taiwanese captain, an Indonesian employee and a news cameraman. It was being escorted by four Taiwanese coastguard vessels.
They left Taiwan in the early hours and reportedly wanted to place the statue of a Taiwanese sea goddess who is traditionally believed to protect fishermen on one of the islands in the group, which lie south of Okinawa and north of Taiwan.
The BBC's Rupert Wingfield-Hayes says this was seen as placing a symbolic territorial claim on the islands. Video footage of the activists before they left Taiwan showed them chanting "Japan, get out of Diaoyutai" and "Return Diaoyutai".
But as the vessel approached the islands mid-morning the Japanese coastguard issued verbal warnings for it to stop, then used water cannon to force it to turn back.
"Our patrol boat carried out restrictions on the vessel such as blocking its path and discharging water," the coastguard said in a statement.
It said the boat left the islands' contiguous zone - the area in which the sovereign state can exercise control - at around 13:30 local time (04:30 GMT) "and continued sailing west-southwest away from the Senkakus".
In August last year, a group of Hong Kong activists landed on one of the islands and were then deported, followed shortly afterwards by a group of Japanese activists.
Dialogue call
The move comes with a Japanese envoy in Beijing in an apparent bid to ease tensions.
Natsuo Yamaguchi, head of the ruling Liberal Democratic Party's junior coalition partner New Komeito, on Wednesday held talks with a senior Chinese official, former foreign minister Tang Jiaxuan.
Officials said Mr Yamaguchi, reportedly carrying a letter from Japanese Prime Minister Shinzo Abe, told his Chinese hosts Tokyo wanted to improve ties through dialogue.
The ownership dispute has been rumbling for years, but it reignited in 2012 when the Japanese government purchased three of the islands from their private Japanese owner.
The move triggered diplomatic protests from Beijing and Taipei, and sparked small public protests in China, impacting on some Japanese businesses operating in the country.
Chinese government ships have since sailed many times through what Japan says are its territorial waters around the islands. Late last year, a Chinese government plane also overflew the islands in what Japan called a violation of its airspace.
In response, Tokyo has moved to increase military spending for the first time in a decade and Mr Abe recently embarked on a diplomatic offensive in South East Asia, where several nations are also embroiled in maritime disputes with China.
Beijing, meanwhile, said earlier this month that it planned to formally survey the islands. It reacted angrily when US Secretary of State Hillary Clinton said that Washington opposed "any unilateral actions that would seek to undermine Japanese administration" of the islands.