Vietnam subversion trial opens in Phu Yen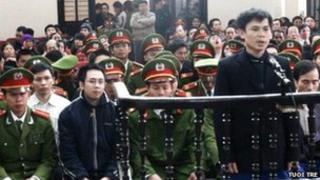 The trial of 22 people charged with attempting to overthrow the Vietnamese government has begun in the central province of Phu Yen, officials say.
The subversion trial, one of the biggest in recent years, is expected to last five days.
In recent years, dozens of political activists have been jailed in the Communist state, which forbids political debate outside party control.
Earlier this month, a court convicted 14 activists on similar charges.
In that case, 13 people - mostly Catholics, including bloggers and students - accused of having links to the banned Viet Tan group, were jailed for between three and 13 years, while one received a suspended sentence.
State media quoted police as saying that the dissidents put on trial on Monday were part of a group with more than 300 members in several southern and central cities and provinces.
Among those on trial is the group's alleged leader, who has been named as Phan Van Thu.
At the time of his arrest last year, state media accused him of setting up two companies and investing in an eco-tourism park as a cover for recruiting supporters.
The defendants are accused of carrying out activities aimed at overthrowing the administration, which comes under Article 79 of Vietnam's penal code.
The highest punishment for such crimes is the death penalty, but correspondents say they defendants are unlikely to face such a sentence if convicted.
There has been no public comment from any defendants or the group to which they allegedly belong.