Dhaka police and protesters clash over war crime trials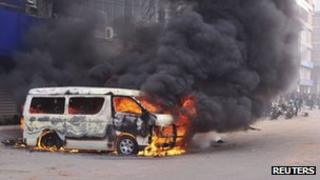 Bangladeshi police have fired tear gas and rubber bullets to disperse Islamist activists protesting at the trial of their leaders for war crimes allegedly committed during the independence war.
At least 50 people, many of them police, were injured in the clashes.
Supporters of the country's largest Islamist party, Jamaat-e-Islami, say the trials are politically motivated.
Bangladesh says more than three million died when troops were sent to stop East Pakistan becoming independent in 1971.
Police and hundreds of activists fought pitched battles in Dhaka's main commercial district on Monday.
Protesters also set off crude explosives and threw bricks at police, the BBC's Anbarasan Ethirajan reports from Dhaka.
A number of cars and buses were damaged.
There were similar protests in several other towns across the country.
The Jamaat-e-Islami wants the trial of its leaders for crimes allegedly committed during the 1971 independence war to be stopped.
The latest protest came a week after a special tribunal sentenced a former member of the party to death in absentia.
Eleven others, nine of them Jamaat leaders, are facing trial.
All the defendants deny the charges and opposition leaders accuse the government of carrying out a political vendetta.