'Asian Nobel prizes' launched by Taiwan businessman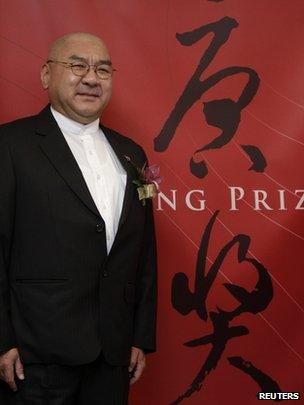 A Taiwanese businessmen has put up more than 3bn Taiwanese dollars ($103m; £65m) to establish what are being dubbed the "Asian Nobel prizes".
The Tang Prize Foundation is being set up by Samuel Yin, who heads a business empire that invests heavily in China.
It will offer prizes of 50m Taiwanese dollars for advances in sustainable development, biopharmaceutical science, China studies, and "rule of law".
Mr Yin said he had chosen subjects not covered by the five Nobel prizes.
"I hope that the prize will encourage more research that is beneficial to the world and humankind, promote Chinese culture, and make the world a better place," he added.
The first Tang prizes would be awarded every two years, beginning in 2014, a statement from the foundation said.
Nominations are open to all countries.
The prize money given to winners, equivalent to around $1.7m, makes them more lucrative than the 118-year-old Nobel prizes, which reward winners with $1.2m in the fields of physics, chemistry, medicine, literature and peace.
The prizes are named after China's Tang dynasty, which ruled more than 1,000 years ago and was known for its cultural and scientific achievements.
Mr Yin, 62, is the head of the Ruentex business empire, and has invested heavily in Chinese education in recent years.
In the early 1990s, he set up the Guanhua School of Management at Peking University in Beijing, and has also funded tuition programmes for Chinese students.
His personal fortune is estimated to be in excess of 100bn Taiwanese dollars ($3.4bn; £2.1bn), and he has pledged to give away 95% of it.