South Korean president issues controversial pardons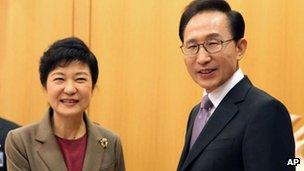 South Korea's outgoing President Lee Myung-bak has denied abusing his power by issuing pardons to a number of his former aides and associates.
A spokesman for Mr Lee said the 55 pardons had been carried out "according to law and procedure".
President-elect Park Geun-hye, who takes over next month, called the move "extremely regrettable", an aide said.
Mr Lee's brother, who was last week sentenced to two years for corruption, was not among those pardoned.
There had been speculation that Lee Sang-deuk's trial was rushed through in order to ensure he was eligible for a pardon. However, the Korea Times said that he was ineligible as he has appealed against his sentence.
South Korean presidents are constitutionally allowed to issue pardons and often do so to mark national holidays or the end of their terms.
Mr Lee has himself issued seven rounds of pardons during his five-year presidency.
Those on the latest list included his close friend Chun Shin-il and a close political ally, Choi See-joong, both of whom had been sentenced for bribery, as well as the former speaker of the national assembly Park Hee-tae and a former aide to Mr Lee, Kim Hyo-jae, who were both jailed over a vote-buying scandal.
A number of elderly and foreign prisoners were also pardoned, South Korea's Yonhap news agency reports.
In a cabinet meeting on Tuesday, Mr Lee said he had stuck to "law and principles" and that the pardons had been reviewed by a committee.
A spokesman for Ms Park, who is from Mr Lee's New Frontier Party, said the decisions "ignore the will of the people and are an abuse of presidential power, and will undoubtedly trigger nationwide condemnation".
However, the opposition has questioned the sincerity of Ms Park's criticism.
"Lee and Park are both acting to fulfil their respective goals," the Korea Times quoted Democratic United Party (DUP) politician Moon Byeong-ho as saying,
"Lee can get his close aides out of jail and Park can later say she opposed the bad practice."