Ivory haul from Africa seized in Singapore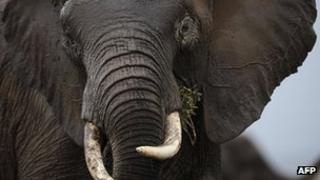 Customs officials in Singapore have uncovered a shipment of 1.8 tonnes of ivory, with a value of around $2.5m (£1.6m).
It is the biggest ivory haul in the country in more than a decade.
The consignment, marked as being waste paper, had come from Africa and was reportedly passing through Singapore.
Elephant poaching has been on the rise because of demand from Asia, where ivory is used for ornaments and in traditional medicine.
An estimated 25,000 elephants were killed in Africa in 2011.
Gerald Neo, executive manager of the Quarantine & Inspection Department of Singapore's Agri-Food & Veterinary Authority (AVA), said in a statement that the haul was found after a tip-off.
A total of 1,099 pieces of raw tusk were found in 65 sacks, he said.
The statement did not say where the shipment had been heading after Singapore, but said that customs officials were investigating the case with local and international agencies.
The trading of ivory is illegal under the Convention on International Trade in Endangered Species (CITES), to which Singapore is a signatory.
In 2002, six tonnes of ivory were seized in Singapore, made up of 532 tusks and tens of thousands of smaller pieces. It was traced to Kenya where it was eventually returned.