Former Pakistan oil and gas chief Tauqir Sadiq arrested in Abu Dhabi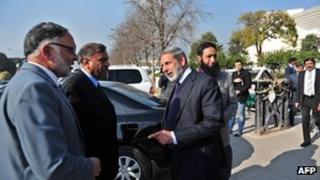 Former Pakistani oil and gas chief Tauqir Sadiq has been arrested in Abu Dhabi on suspicion of embezzling $850m, an official has confirmed to the BBC.
Mr Sadiq will be deported to Pakistan after the finalising of legal formalities which should be completed "within days", the official said.
He denies receiving "kickbacks and commissions" between 2009 and 2011.
Correspondents say his case is linked to a similar investigation against Prime Minister Raja Pervez Ashraf.
Mr Sadiq is accused of receiving the $850m (£540m) when he was head of Pakistan's oil and gas regulatory authority between 2009 and 2011, at around the same time that Mr Ashraf was water and power minister.
Mr Ashraf is accused of receiving bribes paid by power firms in 2010. He also denies any wrongdoing.
Earlier this month the Supreme Court ordered the arrest of the prime minister along with 15 officials, who are also accused in the so-called Rental Power Projects case which dates back to his tenure as water and power minister.
Flight to Abu Dhabi
"We can confirm his [Mr Sadiq's] arrest. He has been detained in Abu Dhabi," said Zafar Iqbal, spokesman for Pakistan's anti-corruption National Accountability Bureau (NAB), which has been investigating the corruption allegations.
The Supreme Court is due to begin a hearing into Mr Sadiq's case on Thursday.
Last week the court ordered a case to be registered against Mr Ashraf, Interior Minister Rehman Malik and another senior member of the governing Pakistan People's Party over Mr Sadiq's appointment in 2009 and his flight to Abu Dhabi in 2012.
In June, the court sacked Mr Ashraf's predecessor, Yousuf Raza Gilani, over his refusal to ask Switzerland to reopen corruption cases against President Asif Ali Zardari.
The government accuses the judiciary of meddling in politics and launching a witch hunt against it.
In March 2013 it is set to become Pakistan's first elected civilian government to complete a full term in office.