Australia MP arrested on 150 charges of fraud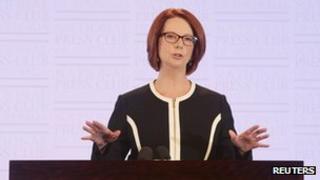 An Australian member of parliament has been arrested and faces 150 charges of fraud, officials say.
Craig Thomson is accused of misusing funds of the union which he headed before joining parliament to pay for prostitutes and lavish hospitality.
Mr Thomson was suspended from the governing Labor Party last year and sits in parliament as an independent.
He denies the allegations and his lawyer has complained that police tipped off the media about his arrest.
The charges relate to Mr Thomson's time as head of the Health Services Union.
Fraud detectives arrested him at his electoral office in New South Wales, after an 18-month investigation into allegations that he improperly used union funds on prostitutes, entertainment, air travel and cash withdrawals in excess of $100,000.
"Every fibre of my being is screaming out to say how wrong this is," he told reporters outside the Wyong local court, adding that he would be "vigorously defending the charges".
The arrest comes one day after Australian Prime Minister Julia Gillard called a general election for 14 September, with plans for parliament to be dissolved on 12 August.
She is currently visiting flood-ravaged communities in Queensland, and said that she only heard about the arrest through media reports.
Ms Gillard leads a minority government that relies on independents, but it is not thought that Mr Thomson's arrest will threaten her ability to pass legislation.
Mr Thomson would be disqualified from parliament if he was convicted of a criminal offence that carried a jail term of one year or more, Australian media reports say.
Analysts say that although he has been suspended from the Labor Party, the scandal is nevertheless likely to be damaging to the government.
Opposition leader Tony Abbott accused Ms Gillard, who initially stood by Mr Thomson, of running a "protection racket" for him, says the BBC's Nick Bryant in Sydney.