Senior Australia ministers Evans and Roxon resign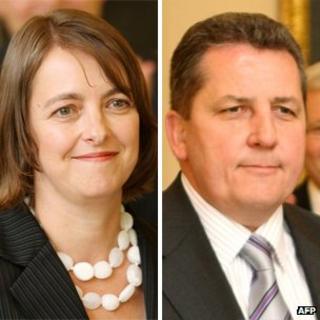 Two senior Australian ministers have announced surprise resignations, only days after Prime Minister Julia Gillard called early elections.
Chris Evans, the government leader in the Senate, and Attorney-General Nicola Roxon both said they were quitting politics for personal reasons.
Local media described the resignations as a severe blow for the Labor Party.
Ms Gillard said she would swear in a new cabinet on Monday before parliament sits for the first time this year.
She praised the contributions of Mr Evans and Ms Roxon and revealed she had known for a year that neither wanted to remain in politics.
"I've always had it in my mind that this was the time to announce new arrangements," she told a joint news conference with the departing ministers in the capital, Canberra.
"We will be able to present the Australian people with a rejuvenated team as we move into the parliamentary year of 2013."
'Very bad look'
Mr Evans said he planned to retire from the Senate once a replacement for his seat had been approved by his party, while Ms Roxon will sit on the backbenches of the House of Representatives until the general election.
Both praised Ms Gillard's leadership and predicted Labor would win a third term in government.
However, an opinion piece in the Sydney Morning Herald newspaper said the surprise departure of such senior ministers was "a very bad look". A commentator in the Australian said the reshuffle looked like a "messy overhaul that could have been done earlier".
Earlier this week, the prime minister surprised voters by announcing an early general election on 14 September. She said the move was designed to end political instability.
Opinion polls show the opposition Liberal-National coalition led by Tony Abbott well ahead of Labor, which formed a minority government after the last elections in 2010 with the support of independents and the Greens.
Inspecting damage caused by last week's floods in Queensland, Mr Abbott said: "It is going to be very important in the days and weeks ahead that there is a strong and stable government in Canberra and I regret to say that just at the moment that doesn't appear to be the case."