Burma government, Kachin rebels in deal to hold more talks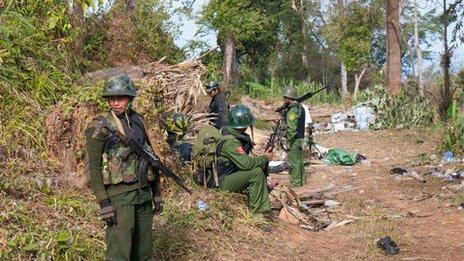 Burma's government and ethnic Kachin rebels have reached an agreement that could pave the way for an end to their conflict.
China mediated talks in the southern Chinese town of Ruili amid ongoing fighting between the army and rebels.
The two sides agreed to defuse military tensions, open lines of communication, and hold another meeting before the end of February.
The Kachin Independence Army (KIA) has fought the Burmese state for 50 years.
The two sides also agreed to hold a political dialogue and to establish a "monitoring system" that would allow them to implement a ceasefire, the Associated Press news agency reports.
The agreement stops short of declaring a ceasefire, and was about trying to build trust ahead of more substantive talks, says the BBC's Jonah Fisher in Bangkok.
The significance of this meeting will depend on what now happens on the ground, our correspondent adds.
If the level of fighting does fall, then this just might be the beginning of the end of Burma's most active ethnic conflict, he says.
In recent weeks Burmese troops have captured several key rebel positions around the town of Laiza, the KIA headquarters, in northern Burma.
The two sides reached a ceasefire last month, but it broke down immediately.
Tens of thousands of civilians have been displaced by the fighting, which reignited in June 2011 after a 17-year truce failed.
Several rounds of talks have already been held without agreement.
The rebels want a political deal in place before agreeing to a ceasefire.
In recent years the Burmese government has reached peace deals with all the major ethnic rebel groups except the KIA.
The conflict presents a challenge to the administration of President Thein Sein, which has been praised for reforms enacted since the transfer from military to civilian rule following elections in November 2010.