Vietnam jails 22 for subversion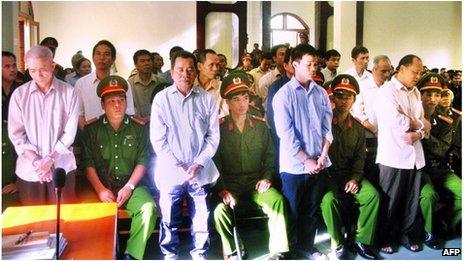 A court in Vietnam's Phu Yen province has jailed 22 people for between 10 years and life on subversion charges.
Prosecutors said the group had set up an eco-tourism company as a front for activities aimed at overthrowing the government.
The week-long trial was the largest of its kind in several years, as the government cracks down on dissent despite international criticism.
Last month, a court convicted 14 activists on similar charges.
In that case, 13 people - mostly Catholics, including bloggers and students - accused of having links to the banned Viet Tan group were jailed for between three and 13 years, while one received a suspended sentence.
State-appointed defence lawyer Nguyen Huong Que said the 22 men convicted in Phu Yen had "admitted their crime of aiming to overthrow the people's administration".
They were members of a little-known group called the Council for the Laws and Public Affairs of Bia Son [a mountain in Phu Yen].
The group's leader, Phan Van Thu, was sentenced to life, while other defendants received jail terms of between 10 and 17 years, with five years of house arrest after that.
At the time of his arrest last year, state media had accused Thu of setting up two companies and investing in an eco-tourism park as a cover for recruiting supporters.
The defendants were accused of writing documents critical of the government.
Rights groups say the charges laid against the activists are routinely used by the Vietnamese government to silence dissent.
Dozens of people have been jailed under the laws since 2009, and the government has been accused repeatedly by overseas critics of stepping up repression.
An annual round of dialogue on human rights between Vietnam and the US was cancelled in December because of Washington's concerns about Hanoi's worsening rights record.
Last week, Human Rights Watch said the country was "systematically suppressing freedom of expression, association, and peaceful assembly, and persecuting those who question government policies".
Related Internet Links
The BBC is not responsible for the content of external sites.