India and Nepal begin Royal Bengal tiger census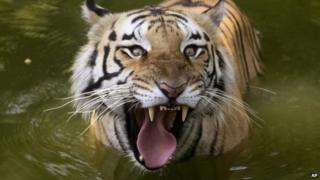 Forest and nature protection officials from Nepal and India have started their first ever joint survey of tigers.
The survey will take place in a dozen or more wildlife preserves and forests spread across the Terai Arc region that the two South Asian nations share.
The project aims to identify the exact number of Royal Bengal tigers residing in this zone.
It will also study the availability of prey to assist with conservation strategies.
The Terai Arc Landscape spreads over 950km (600 miles) across the Indian states of Bihar, Uttar Pradesh and Uttarakhand and into southern Nepal.
The region is estimated to be home to 500 tigers at present - one of the world's densest concentrations of tigers, according to the World Wide Fund for Nature (WWF).
WWF is one of the organisations involved in the survey, which is being led by the governments of India and Nepal.
As part of the survey, officials are installing hundreds of camera traps (remote motion-sensitive cameras) along the wild paths frequented by the tigers, allowing tigers who come into the cameras' range to be identified.
"The same tiger trapped by a camera here on the Nepali side could cross over into India, but that tiger will be trapped by another camera there," Megh Bahadur Pandey, the director general of Nepal's Department of National Parks and Wildlife Conservation, told the BBC.
That means no tiger will be counted twice.
Population plan
Officials say that as well as ascertaining the tiger population in the region, the survey will also study the tigers' "prey base" or prey availability.
This is necessary to draw up conservation strategies in the region as part of an ambitious plan unveiled in 2010 - the last Year of the Tiger - seeking to double the wild tiger population by 2022.
"The results will show whether we are succeeding or failing towards that goal," Anil Manandhar, the country representative of the WWF Nepal programme, told the BBC.
"Based on the outcomes, we can plan our strategies for tiger conservation."
He said officials may need up to four months to compile the joint results.
Tens of thousands of Royal Bengal tigers used to roam Bangladesh, Bhutan, India and Nepal, but their population currently stands at just a little over 3,000.
The tiger's massive decline in past decades is due to widespread deforestation, the shrinking of their habitat and loss of prey base, say experts.