Bangladesh Islamist jailing prompts protests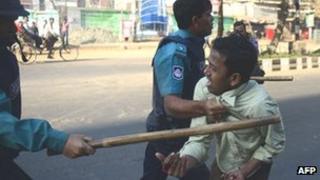 Police in Bangladesh have clashed with protesters for a second day, after a leader of the main Islamist party was jailed for life for crimes against humanity in the war of independence.
At least 10 people were injured in violence near the capital, Dhaka.
Four people died and dozens were hurt in clashes on Tuesday following the verdict against Abdul Kader Mullah of Jamaat-e-Islami.
Pro-government groups also rallied, urging the death penalty for Mullah.
Thousands staged vigils on Tuesday and Wednesday in central Dhaka, saying the sentence was too lenient.
Mullah's supporters accuse the government of a political vendetta.
They are holding a general strike for a second day, leaving schools and businesses closed across the country.
Police fired tear gas and rubber bullets to disperse demonstrators, as TV footage showed protesters throwing stones.
Mullah, 64, the assistant secretary general of Jamaat-e-Islami, was found guilty on Tuesday of five out of six charges, including murder.
He was accused in court of being behind a series of killings including some large-scale massacres in the Mirpur area of Dhaka, which earned him the nickname of "koshai (butcher) of Mirpur" and made him one of the more feared Jamaat leaders.
He is the second defendant to be found guilty by the special tribunal.
Last month, a former party leader, Abul Kalam Azad, was found guilty in absentia of eight charges of crimes against humanity and sentenced to death.
Ten others are on trial, including eight top leaders of Jamaat-e-Islami and two members of the opposition Bangladesh Nationalist Party (BNP), one a former minister.
All deny the charges against them.
The special court was set up in 2010 by the current Bangladeshi government to deal with those accused of collaborating with Pakistani forces who attempted to stop East Pakistan (as Bangladesh was then) from becoming an independent country.
Bangladesh government figures estimate more than three million people were killed during the independence war, although some researchers put the figure at between 300,000 and 500,000.
Abdur Razzaq, the lead lawyer for the Jamaat leaders facing trial, has described the tribunal as "a witch hunt". Human rights groups have also said it falls short of international standards.