Kumbh Mela festival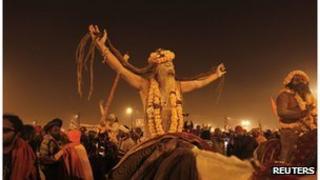 Millions of Hindu pilgrims have taken to the waters at the confluence of the Ganges and Jamuna rivers on the most auspicious day of the Kumbh Mela festival.
Hindus believe a festival dip at Sangam - where the rivers meet - will cleanse sins and help bring salvation.
BBC News website readers who are visiting the Kumbh Mela have shared their experiences and their photos of this special day.
Dr Shruti Tewari, from Allahabad, India
I have just come back from the Mela and I'll probably go back this afternoon.
It was good today - it was huge, very crowded. We went to Sangam, where the rivers converge, the most auspicious place to take a dip.
There were so many people there was no space between anyone. It was not a comfortable situation, but people were still enjoying it.
There was a feeling of shared identity which was extremely good.
It was the first time in my life I have taken a dip in the holy Ganges.
People were smiling and there was a feeling people had succeeded in their mission.
Once you were in the river you could see at the back a huge crowd and everyone doing the same thing.
Kovid Kapoor, from Allahabad and Delhi, India
There are people everywhere, millions of them. All through the city.
People are sleeping on the roads, pavements, next to the Sangam, on the railway station, in thousands of tents put up on the banks of the rivers.
The traffic is blocked throughout the city, and you have to walk at least seven or eight kilometres to get to the Sangam.
And millions of people are doing it.
Last night, the air was filled with smoke from the yagyas [ritual of offerings], so much that there was a clear drop in the visibility and you could feel it in your eyes.
You could hear the chants from the yagyas from far away.
I had seen all the Kumbhs since 1990, and my family live in Allahabad so I was never going to miss this one.
Tony Smith, from Winchester, UK
I have been at the Mela since 2am. It was like nothing on earth. Just a sea of people focused on bathing or returning from bathing.
The atmosphere amongst the pilgrims is very happy and determined - they only want to bathe.
The vast majority of pilgrims are very poor and getting to the water isn't easy as the crowds are so immense.
It's amazing to see the hardship they go through to make their prayers at the water's edge.
There were elderly women in their 70s or 80s, crushed like you can't imagine, taken care of by their village or family group.
It's incredible to see how these elderly people will suffer to reach the water and bathe.
For a strong person like me it feels as though the air is being crushed from your lungs.
It must be awful for them.
Santosh Sharma, from Gwalior, India
Today I woke up at 3am.
I thought I would be the first person to take a bath but when I came out of my camp I found that millions of people had taken a bath already.
It was cold, maybe around three degrees, but you will not find a single person who was there for bathing who cared about the cold.
Ladies were worshipping Mother Ganga by offering fire and flowers.
After bathing and worship they donated rice and money to people in need.
Debashis Ghosh, from London, UK
I have already been to bathe. We started from here at 3.30am.
It was amazing. There were people all over the place from all over the world.
Dipping into the water was the most amazing experience, I can't really describe it.
I came here for spiritual reasons; being in a huge energy mass of people is incredible.
The smells were beautiful, not like the usual ugly smells you associate with India, and the colours were fantastic.
The way it is organised, the law and order, is just so good. There is no problem.
Despite the crowds people were just slowly make their way.