Guam knife attack toll rises to three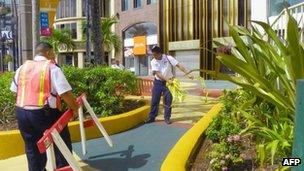 The death toll from an attack in Guam has risen to three after a man mown down by a car died of his injuries.
The attack happened late on Tuesday in the US Pacific territory. A man crashed his car near a convenience store, then stabbed several people.
Two Japanese women were killed and another 10 people injured, including two babies.
A local man, 21-year-old Chad Ryan Desoto, has been charged with multiple offences including murder.
Officials said one of the injured - a 51-year-old Japanese man - had been taken to Guam Memorial Hospital in a critical condition but died on Thursday morning.
The motive for the attack remains unclear. Most of those injured were said to be Japanese - Guam is a popular holiday destination for Japanese tourists.