Attacks in Pakistan's north-west 'kill at least 19'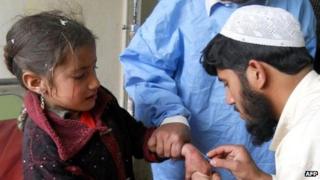 At least 19 people have been killed in a series of attacks in north-west Pakistan, officials say.
Seven were reported dead in a blast at a police checkpoint in the Hangu district of Khyber Pakhtunkhwa province.
Meanwhile, at least six people were killed in a bomb attack on an anti-Taliban tribe in the Orakzai region.
In another incident, six suicide bombers died in an attack on a police station in the town of Bannu.
Officials said five of the bombers in that attack were shot dead by police while a sixth blew himself up. The Taliban carried out the attack, their spokesman said.
Officials said one policeman was hurt in that attack.
Security personnel and civilians are thought to be among those who died in the attack in Hangu.
Tribe targeted
The two roadside blasts in Orakzai region came only hours earlier, and left another 26 wounded.
Members of the Zakhakhel tribe had been travelling from Tirah valley in Khyber district to Peshawar when they were caught in the blasts in Orakzai.
There was no immediate claim for the bombing. Militants have carried out many such attacks in recent years in which hundreds have been killed.
An Orakzai administration official told the BBC there had been two bombs and that two passenger vans had been targeted near the village of Hasanzai. The injured include six women and five children, he said.
The vans were heading for Peshawar via the town of Hangu, where many members of the Zakhakhel tribe have fled recently to escape fighting between pro-Taliban and anti-Taliban groups.
The tribe has been resisting attempts by the Lashkar-e-Islam militant group to extend its influence to the Tirah area, the BBC's M Ilyas Khan in Islamabad reports.
Lashkar-e-Islam has a tactical alliance with the Pakistani Taliban in Tirah and has attacked Zakhakhel members before.
A number of anti-Taliban tribal groups in the north-west are sponsored by the government in an attempt to drive militants out of their communities.
They are often attacked by insurgents. Pakistan's security forces are also fighting the militants in several areas.