Three killed in Bangladesh clashes over war crimes trials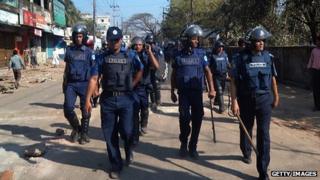 Three people have died in the Bangladeshi city of Cox's Bazar in protests over a war crimes tribunal.
The three were killed in clashes between police and supporters of the Jamaat-e-Islami party, one of whose leaders was convicted by the tribunal last week.
Meanwhile, tens of thousands have gathered in the capital Dhaka to demand the death penalty for those convicted.
The tribunal is investigating crimes dating from the 1971 independence war.
A senior police officer told the BBC's Bengali Service that the three supporters of Jamaat were killed during a gun battle. He said the protesters used fire arms and crude bombs against the police.
"We first used rubber bullets and tear gas shells to disperse them. But they kept on attacking us. So, we opened fire on the protesters. Three people were killed but we are not sure whether they were killed by our bullets," officer Mohammad Azad Mia said.
However, a local leader of the Jamaat denied that their supporters were using fire arms against the police.
The Jamaat has called for a country-wide general strike on Monday in protest at the deaths.
Controversial tribunal
Meanwhile, tens of thousands of people gathered in Dhaka demanding the death penalty for those convicted by the tribunal.
The protest has been going on for the last eleven days and on Friday it attracted more people from all walks of life, the BBC's Anbarasan Ethirajan reports from Dhaka.
The demonstration at a busy intersection started after Jamaat leader Abdul Kader Mullah was sentenced to life in prison in connection with mass murder and torture during the war.
Ten others, eight of them Jamaat party leaders, are on trial at the International Crimes Tribunal set up by the Bangladeshi government.
The other two are members of the opposition Bangladesh Nationalist Party (BNP), one a former minister.
Jamaat is an ally of the BNP, bitter political rivals of current Prime Minister Sheikh Hasina, who has made prosecuting war crimes a key goal of her government.
Human rights groups have said the tribunal falls short of international standards. Jamaat and the BNP accuse the current government of pursuing a political vendetta through the tribunal.
Official estimates say more than three million people were killed in the 1971 war which resulted in independence from Pakistan.
The authorities say the defendants opposed independence and either fought alongside or actively supported the Pakistani authorities.