Nato accepts Afghan leader Karzai's air strikes decree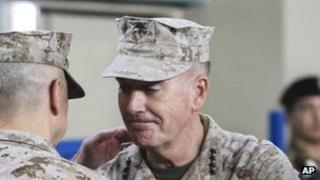 Nato has said it accepts President Hamid Karzai's order banning Afghan security forces from calling in foreign air strikes in residential areas.
The commander of the US-led Nato forces, Gen Joseph Dunford, said Nato respected Afghan sovereignty and had other ways to support Afghan forces.
Mr Karzai announced his decree followed last week's killing of 10 civilians in a night raid in eastern Kunar province.
Civilian casualties are a source of tension between Afghan and Nato forces.
'Extraordinary progress'
Gen Dunford said Afghanistan was "a sovereign nation and the president is exercising sovereignty".
He said: "We are prepared to provide support in line with the president's intent," adding that he had been given broad guidance from Mr Karzai on the issue and would discuss the technical aspects with the Afghan defence ministry in the coming days.
Gen Dunford, who has been in his job for just a week, insisted Nato had made "extraordinary progress in mitigating the risk to civilians".
"There are other ways we can support our Afghan partners other than air ordnance," he said.
The BBC's Karen Allen in Kabul says Gen Dunford's comments seek to smooth ruffled feathers following growing sensitivity about civilian deaths during anti-insurgent operations.
Mr Karzai said on Saturday: "I will issue a decree [on Sunday] that no Afghan security forces, in any circumstances can ask for the foreigners' planes for carrying out operations on our homes and villages.
"Our forces ask for air support from foreigners and children get killed in an air strike," he said.
Most of the 10 civilians killed in the 13 February air strike on Kunar were women and children.
Four Taliban fighters also died in the attack, in the Shegal district of Kunar, which borders Pakistan. The Afghan army said the dead men had links to al-Qaeda.
A UN report earlier this month accused the US of killing hundreds of children in air strikes over the past four years.
The number of child casualties had doubled in 2010-2011 due to a "lack of precautionary measures and use of indiscriminate force", the study found.
The Nato-led Isaf force called the claims "categorically unfounded" and "false".
Nato troops are scheduled to withdraw from Afghanistan by the end of 2014 and have gradually been handing over responsibility for security to their Afghan counterparts.
Separately, Mr Karzai issued another decree on Saturday ordering interrogation facilities in prisons to be equipped with video cameras, following reports of abuse.
"Relevant authorities are required to equip the intelligence and investigating agencies with modern equipment and devices and videotape the interrogation process," the decree read.