Burmese rescued off Sri Lanka 'threw dead into sea'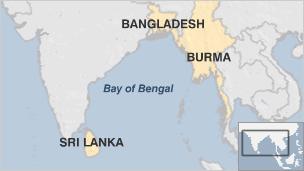 Thirty-two Burmese nationals have been rescued from a sinking ship by the Sri Lankan navy after the wooden vessel began to sink en route to Australia.
The navy said the 31 men and a boy were found 463km (250 nautical miles) off eastern Sri Lanka on Saturday and were being treated for acute dehydration.
The survivors have claimed that there were 98 others on board the vessel with them when they set sail two months ago.
They allegedly died during the journey and their bodies were thrown overboard.
"They said they had carried food and water for only one month and they had been in the sea for two months after the ship engine stalled," police spokesman Prishantha Jayakody told the Reuters news agency.
"Their captain and 97 others have died due to dehydration and starvation," he said.
The survivors had said they were Muslims from a border village between Burma and Bangladesh, and that they had intended to seek asylum in Indonesia or Australia, Mr Jayakody added.
Many members of Burma's Muslim Rohingya group have been trying to flee in the past few months, after ethnic violence in the Burmese state of Rakhine left tens of thousands displaced.