Is Australian sport badly broken?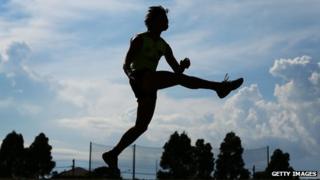 Once the model for athletes, coaches and teams the world over, Australian sport would appear from the headlines to be badly broken.
It suffers from the "widespread" use of performance-enhancing drugs and links to organised crime, according to a controversial report from the Australian Crime Commission, a body that was set up to combat mobsters and crime gangs.
Its much-loved Olympic swimming team, which has come to epitomise the Aussie sporting ethos, has been infected by a "toxic" culture, according to another incriminatory report. It cited drunkenness, bullying, the abuse of prescription drugs and deceit as factors behind its disappointing performance at the London Olympics, its worst in 20 years.
Aussie Rules Football, a secular religion in its Melbourne birthplace, has not only been tarnished by allegations of illicit drug use, but also accusations that one club deliberately lost matches so it could finish lower in the league and thus recruit better young players under the draft system.
The Melbourne Demons were this week cleared of "tanking," but nonetheless fined $A500,000 ($518,000, £335,500) - the third biggest penalty in the sport's history - adding to the sense of confusion.
Rugby league, fingered by the government alongside Aussie Rules as the footballing code where the use of performance-enhancing drugs is most prevalent, is also investigating a possible case of match-fixing.
On the field of play, leading Australian sports teams have lost their winning habit. Its Olympians returned from London with just seven gold medals, compared with 14 from Beijing, 17 from Athens and 16 in Sydney.
Its once-feared cricket team, which has suffered back-to-back Ashes defeats to England, is still recovering from the retirement of its generation of greats - Shane Warne, Glenn McGrath, Adam Gilchrist.
Its rebuilding process has been hampered, critics complain, by a bewildering rotation selection policy in which in-form players are regularly rested. The centrepiece of its domestic season is now the short-form Big Bash Twenty20 tournament rather than the long-form Sheffield Shield format, the long-time nursery of the country's test stars.
Last weekend, the Australian women's cricket team celebrated victory in the World Cup. But their success also highlighted the men's team fall from global dominance.
The Wallabies rugby union team is third in the world rankings - above England and France - but it has not won the Bledisloe Cup against New Zealand's mighty All Blacks for a decade.
On the field and off, Australian sport is arguably at its lowest ebb since the Montreal Olympics in 1976, when the country failed to win a single gold medal - a setback that led to the creation of the much-admired, and much-aped, Australian Institute of Sport.
The drug allegations were dubbed "the blackest day in Australian sport". The "toxic" swimming report also produced a rash of negative headlines, on front page and back.
'Beat-up?'
Yet there is a strong feeling, too, that Australia's sporting problems have been exaggerated. The "blackest day in Australia sport" was not followed, as many expected, by arrests or dawn raids on sports clubs and pharmacies.
Sports grounds did not overnight become crime scenes. Indeed, while the pall of suspicion was left to hang over every professional athlete, the ACC's published report did not mention names and clubs.
For some sports fans and players, then, there was a double violation of Australia's sense of fair play: first, when the allegations of drug cheating were first aired; second, when they were not followed up by more concrete action in more sports.
"Nobody has been named, no club has been named and no sport has been named," complained Phil Gould, a leading figure in rugby league. "It's a broad-brush condemnation of Australian sport everywhere."
Since the release of the report, the Australian Sports Anti-Doping Authority (ASADA) has informed six rugby league teams (Manly, Cronulla, Newcastle, Canberra, North Queensland and Penrith) and one Aussie Rules club (Essendon) that they are under investigation. ASADA has also announced plans to interview 150 players, support staff and administrators in rugby league and Aussie Rules.
But again, it begs the question of why, when the Australian government revealed the explosive allegations at a dramatic news conference, the Justice Minister Jason Clare was flanked not just by the heads of rugby league and Aussie Rules, but also by the chief executives of cricket, rugby union and soccer.
Though the inference from the news conference was that all sports were contaminated, three of the "Big Five" sports - cricket, soccer and rugby union - are evidently clean.
There have also been allegations that the Gillard government "hijacked" the Australian Crime Commission report for political purposes in the run-up to a federal election.
Many have bemoaned what Australians call a "beat-up".
"There was political grandstanding, no doubt about it," says Richard Hinds, the chief sports columnist for the Sydney Morning Herald. "But the response has been a bit hysterical as well."
"I think the report has been misinterpreted. ASADA has barely started its investigation. It would not have been launched if there is no evidence, and from my experience over the past 20 years there is no smoke without fire."
The ABC's Barry Cassidy, who not only presents the main Sunday morning political talk show but also the main Sunday morning sports show, thinks it would be a mistake to downplay the report.
"Any one of those allegations in isolation would be a massive story," he wrote on ABC's The Drum. "Yet taken together remarkably some commentators dismiss them as not meaning much at all."
Australian sport has pledged to clean up its act. With two Ashes series and a Lions rugby union tour coming up in 2013, there is also the chance for on-field redemption.
But as summer ends here, and attentions shifts to the big-money winter sporting codes, many fans will be left asking, which of their heroes can they trust?