Indonesia's Anas Urbaningrum named in corruption case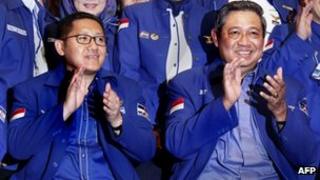 The chairman of Indonesia's governing Democratic Party has been banned from leaving the country after being named as a suspect in a corruption case.
Anas Urbaningrum is accused of receiving "gifts" related to the construction of a 1.2tn rupiah (£80m) sports centre development.
A Corruption Eradication Commission spokesman said there was enough evidence to declare Mr Urbaningrum had violated the anti-corruption law.
He has repeatedly denied wrongdoing.
While the commission did not specify what "gifts or a promise of gifts" Mr Urbaningrum had received, reports suggest he was given a Toyota Harrier.
It is the latest embarrassment for President Susilo Bambang Yudhoyono, who won a second term landslide victory in 2009 on an anti-corruption platform.
In December, Sports Minister Andi Mallarangeng resigned after being named as a suspect in the same case - over the construction of a huge sports complex in the town of Bogor in West Java.
Mr Mallarangeng denied the allegations. but said he did not want to become a burden for the president and the cabinet.
"The wheels of the government must keep turning, and my personal legal matters are my responsibility," he is quoted as saying by the AFP news agency.