Singapore jails bus drivers for inciting strikes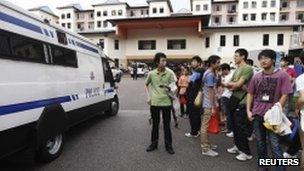 Four bus drivers have been jailed for up to seven weeks for organising Singapore's first strike in 26 years.
The two-day strike last November involved Chinese drivers at the state-controlled SMRT transport company protesting about pay and conditions.
Strikes are illegal in Singapore for workers in essential services, unless the employer is given 14 days' notice.
Rights groups had urged the government to drop the charges, saying the strike did not cause major disruption.
Gao Yue Qiang, Liu Xiangying and Wang Xianjie each received six weeks in jail for conspiring to launch a strike, while He Jun Ling, 32, received an additional week for posting a comment on social media encouraging others to take part.
The Straits Times said the four men, all of whom worked at SMRT, had pleaded guilty.
Judge See Kee Oon said the strike had had the potential to "severely affect the daily lives of all commuters" and that the sentence had to be "of sufficient duration to signal its deterrent intent", AFP news agency reports.
But he acknowledged that they "may have been motivated by a sense of grievance".
Singapore has already jailed one bus driver for six weeks and deported 29 others over the incident.
The strike, which was joined by more than 100 drivers who had been recruited from China, drew attention to Singapore's policies on foreign, low-skilled labour.
The drivers were protesting about the salaries, which they said were lower than those of drivers from other countries, and about the standard of their accommodation, provided by SMRT.
The company denied discrimination, and said the difference in wages was because the Chinese workers were given accommodation.
The maximum sentence for illegal striking in Singapore is a year in jail and a fine of 2,000 Singapore dollars ($1,600; £1,000).
Related Internet Links
The BBC is not responsible for the content of external sites.