US sailors admit Okinawa rape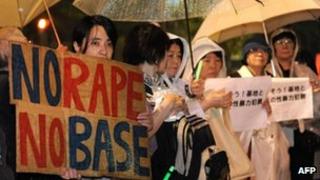 Two US sailors have pleaded guilty to the rape of a Japanese woman in Okinawa, in a case that led to a curfew for all US troops in Japan.
Skyler Dozierwalker, 23, and Christopher Browning, 24, admitted the charges before the Naha district court on the southern island.
The men, who were in Okinawa on the way to Guam, will be sentenced on Friday.
The incident, in October 2012, exacerbated resentment over the US military presence on the island.
In the wake of the attack, Okinawa's legislature passed a protest resolution calling on the US to prevent crimes against local residents.
US troops throughout Japan were placed under a night-time curfew. This was lifted for senior personnel and eased slightly for other personnel earlier this month.
The US bases some 26,000 troops on Okinawa under a long-standing security alliance with Japan.
But the gang-rape in 1995 of a 12-year-old girl by three US service personnel led to moves to reduce the US military footprint there, amid island-wide outrage.
The US says it is planning to relocate several thousand marines off Okinawa to Guam, but has linked their departure to progress on a new base in the north of the island - which many residents oppose.
The US is keen to move the plan for the new base forward and new Prime Minister Shinzo Abe is looking to consolidate ties with Washington.
But incidents in Okinawa serve to further entrench local opposition to the base relocation plan, leaving Mr Abe in a tight spot.