Pakistan army chief Kayani vows no interference in polls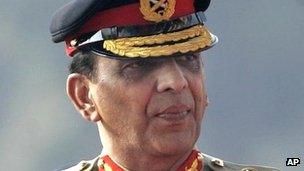 Pakistan's army Chief of Staff, Gen Ashfaq Pervez Kayani, has said that the army has no intention of interfering with upcoming parliamentary elections.
He said it was his "dream" that fair elections would take place on time.
Polls due in May would mark the first time a civilian government has completed its term and transferred power to another elected assembly.
A nationwide power cut on Sunday night triggered fresh rumours of a military takeover in Pakistan.
"The army does not have any intention to derail the democratic process," Gen Kayani was quoted as saying, according to Pakistan's Express Tribune.
According to local news sources, he made the comments in an informal briefing to reporters in the city of Rawalpindi on Sunday but they were not reported until later.
In a country with a history of military coups, there are residual fears of meddling by the army, reports the BBC's Orla Guerin in Islamabad.
Last week, the chief military spokesperson issued a similar statement insisting that the army would not benefit from elections being delayed.
Gen Kayani, who has been chief of staff of the army since 2007, said that he has always supported the democratic process and wanted elections to be held simultaneously across the entire country.
He said that the military will accept the election results wholeheartedly.