Air New Zealand pilot 'fell asleep' during flight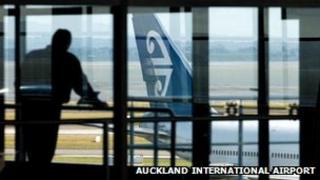 Air New Zealand has said that one of its pilots nodded off during a flight between London and Los Angeles, local media reports say.
The airline said the pilot of the Boeing 777 had reported falling asleep twice as he flew the plane across the Atlantic in 2011.
It said safety had not been compromised as the pilot was not alone at the cockpit's flight deck at the time.
The transport minister said it "doesn't look good" for the airline.
"You've got big reputational issues here," Gerry Brownlee said.
"Satisfy the public that you're making sure your pilots are not asleep on the job," he added.
Fatigue report
New Zealand media said details only emerged after a request was made under the official information act.
In a statement quoted by the New Zealand Herald, Air New Zealand said: "During the cruise phase of the flight one of the two operating pilots nodded off twice for around a minute and woke spontaneously."
"The other operating pilot on the flight deck was aware of this and safety was not compromised at any point."
Most airliners have autopilots which use sophisticated computer software to help pilots control the aircraft, used often during long periods of flying at the same altitude on long-haul flights.
Each country has regulations governing the number of hours a pilot can fly before having to take a rest.
According to Agence France Presse, a New Zealand Civil Aviation Authority document said the pilot, who has not been named, had voluntarily submitted a fatigue report, blaming the incident on having a bad night's sleep in London the night before.
He said he was exhausted after having to change hotel rooms three times during the night because of air conditioning problems.
"I suddenly, and without any warning, fell into a deep sleep on the flight deck. The same event occurred twice," he said in the report, according to AFP.
The pilot will not face any disciplinary action as the airline does not wish to discourage pilots from reporting such incidents.
Many countries allow monitored controlled rest periods for crews in the cockpit, as long as these are co-ordinated between the pilots.
A 2011 study of British pilots suggested that one in five suffered from fatigue in the cockpit at least once a week.