Philippines President Aquino urges Sabah clan to surrender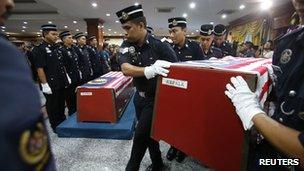 Philippine President Benigno Aquino has called on members of a clan occupying a Malaysian village to surrender to avoid further bloodshed.
He told the group to "surrender now without conditions", a day after 12 members of the clan and two Malaysian police officers were killed in clashes.
The Muslim clan from the Philippines is demanding recognition as the rightful owners of Sabah province.
Malaysia threatened to take "drastic action" unless the group surrender.
The clan, which calls itself the Royal Army of Sulu, has occupied the village of Lahad Datu since early February.
Hamza Taib, police chief of the Sabah region, told AFP news agency, "We want them to surrender immediately. If they don't, they will face drastic action".
He declined to provide details, but his comments show Malaysia's growing impatience with the situation.
According to the police, Friday morning's shoot-out happened when members of the clan opened fire as security forces were tightening a security cordon around the village.
The group of at least 100 were led into the region in early February by Agbimuddin Kiram, who is the younger brother of the self-proclaimed Sultan of Sulu Jamalul Kiram III.
The Sulu Sultanate once spread over several southern Philippine islands as well as parts of Borneo, and claimed Sabah as its own before it was designated a British protectorate in the 1800s.
Sabah became part of Malaysia in 1963, and the country still pays a token rent to the Sulu Sultanate each year.
The Royal Army of Sulu wants Malaysia to recognise it as the rightful owner of Sabah, and to renegotiate the terms of the old lease - something Malaysia has made clear it has no intention of doing.